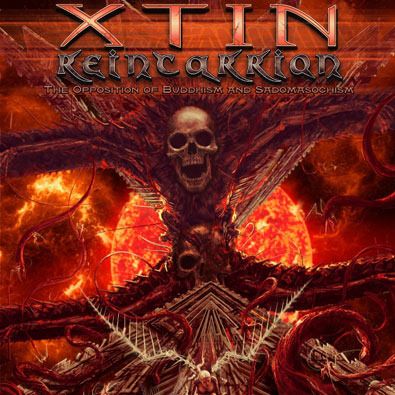 Steel yourself for the horrors within XTIN! This comic is hardcore, full on, skulls removed from still living bodies, muscles fibres torn from nerves and blood vessels… The true essence of shadowmasochism! XTIN is set in a bewildering world, half astral plane, half dream, where reality has been twisted by evil creatures who hunt humans for their skulls. One guru and his young pupil hold the key to redemption, but it will be a long, hard, horrifying road in this bloody disembodied world of demons and dragons.
Gorgeously gross full colour digital art features here. You may remember the name "XTIN" from "XTIN The Dragons Dream World", which was featured a few years ago and since deleted from DD. This is a very different take on the story and while the other was strictly solid black and white, XTIN is full colour, far more pretty and not nearly as horrific, despite the deep red hues of the painstakingly rendered viscera. The writing is obscure and slightly confusing, but you'll work it out. The Indian take on the world mythology is quite unique.

Read XTIN, by Jeremy Ray, rated M.