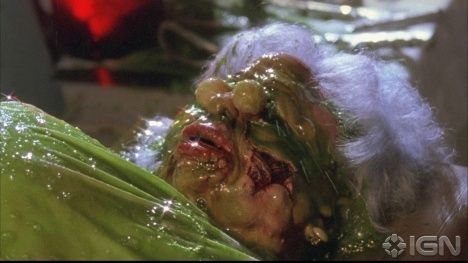 So I look at Tantz Aerine and say, "hey Greekie! I gotta do a new post tomorrow. WHUT DOO AH RIGHT?" She sipped her ouzo with all twelve of her pinkies extended and said, "Mutants, dumbass." Afterall, I came to realize that I would indeed be posting this on Mutant Memorial Day. Somber and important but often neglect. I bet none of you even remembered to buy gifts.

Any of you who've read my celebration of life, Putrid Meat, know that it has…well…mutants. Not quite the X-men variety, but little crawly ones. Dumb ones. Smelly ones. Live ones. Dead ones. Probably a little sticky. Why. What's the magic in the sauce?

Being a spawn of the 80's, mutants were everywhere, even in my ninja turtles. There was no shortage of creepy sewer dweller or outer-space mangler. Alot of them, I think, came from fear of nuclear war. The cold war was scary in that no one wanted to be vaporized; as many of us imagined would happen. The upside of this was mutants. After the Great Fallout occurred, I found myself in the company of many wonderful mutant friends and companions. They have all melted by now. Putrid Meat is my tribute to them. God speed, Sparky, the man with ashtray hands, and Danny the walking goiter. You live on.

Guest Newspost by a hippy from a small town in Illinois - http://www.theduckwebcomics.com/user/PIT_FACE/.