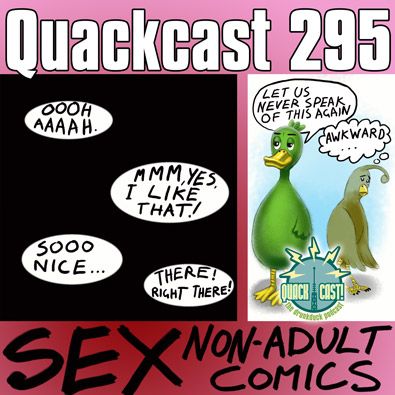 LISTEN!
Art by Ozoneocean

This is the Awkardcast! Another take on the sexcast idea but this time we're looking at sex and sexual situations in strictly NON-adult comics. Sex performs a very different role in non-adult comics… You have a much wider audience with comics at the rating, but there are things you can not show, so of course you use sex for other reasons than the way you do in an adult rated comic. In an adult comic you can show all details of the entire act, all the genitalia in all their glistening, gory, gooey, hairy splendour, going in and out and around here and there and all over the place! Oh my!

In Mature comics and bellow though, you simply can't, though you CAN have some non-sexual full frontal nudity in Mature comics and you can show bottoms in Teen rated comics. The ratings are similar to what you have with film ratings. In adult comics, like adult film, sex acts are more of the focus, they can still have a story but the sex acts are supposed to be enjoyed in their own right. In non-adult comics the sex has other purposes- subtle titillation is a part of it, comedy, teasing the viewer, furthering the plot, a culmination of a relationship or the establishment of one, etc- there's generally always another purpose to it, unlike adult comics where there sometimes is but doesn't need to be.
And unlike adult film there's not much purpose to softcore non-adult rated porn in comics. That type of censored porn is done in film in order to get a wider audience on media that will otherwise not show porn, but on the net porn it's super easy to come by so there's not much reason to do softcore.

There are a lot of challenges entailed in depicting non-adult rated porn! Certain positions don't work in well with the limits on nudity (we talk about this in the cast), but there are tricks you can use; symbolism (popping champagne corks, trains going into tunnels etc), strategic positioning of sheets, clever camera angles, fading out before the act and fading in again after, characters with mussed hair and uneven clothing, using dialogue to refer to what they just did, "off-screen" shenanigans, or shenanigans in the dark etc, it can be a lot of fun! Have a listen to how Tantz, I and Banes tackle the idea.
The music by Gunwallace for his week was Firefly cross! A very mystical sound, with traditional, middle eastern style music mixed with dark techno fuzz, this one is intriguing!

Topics and shownotes

Featured comic:
FRED - http://www.theduckwebcomics.com/FRED

Daniel by Sarah M - http://www.theduckwebcomics.com/Daniel/
The faction by PeiPei - http://www.theduckwebcomics.com/The_Faction/
Putrid meat by PitFace - http://www.theduckwebcomics.com/PUTRID_MEAT/
Without moonlight by Tantz Aerine - http://www.theduckwebcomics.com/Without_Moonlight/
Pinky TA - http://www.theduckwebcomics.com/Pinky_TA/

Special thanks to:
Gunwallace - http://www.virtuallycomics.com
Banes - http://www.theduckwebcomics.com/user/Banes/
Tantz Aerine - http://www.theduckwebcomics.com/user/Tantz_Aerine
kawaiidaigakusei - http://www.theduckwebcomics.com/user/kawaiidaigakusei/

Featured music:
Firefly cross - http://www.theduckwebcomics.com/Firefly_Cross/ by Dragonsong12, rated E.