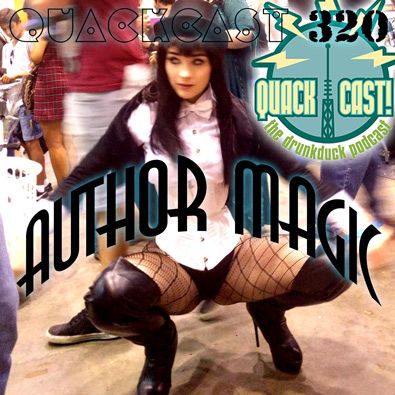 LISTEN!

In this Quackcast I wanted to talk about the magic of authorship: how the creator of a story sets up the whole situation so that they can convince the reader of anything. You can write a story about the smartest man in the world, and the reader will believe that they are, within the story, because you set it up that way: not just by having other characters reacting to them and forming that impression, but also independently convincing the audience of it as well by having them solving riddles and such or knowing lots of languages, quoting literary texts etc, but the creator doesn't have to be a very smart person themselves…
Like Sherlock Holmes is seen as super smart because he's meant to, but Arthur Conan Doyle wasn't a super genius himself.
You can write about a Casanova type charmer who's fantastic with the opposite sex and readers will believe, but only if you set the stage well enough.
You as the creator set the parameters for anything to happen. Without having certain abilities or skills yourself, you can create a character with totally convincing skills far outside of yourself.

The music for this week by Gunwallace is for The Gloom, it's creepy, ghostly, unsettling, uneven. This one gets under your skin and keeps you off-balance.

Topics and shownotes

Featured comic:
Slaughter at Camp Notamoovi - http://www.theduckwebcomics.com/news/2017/apr/18/featured-comic-slaughter-at-camp-notamoovi/

Special thanks to:
Gunwallace - http://www.virtuallycomics.com
Pitface - http://www.theduckwebcomics.com/user/PIT_FACE/
Tantz Aerine - http://www.theduckwebcomics.com/user/Tantz_Aerine
Banes - http://www.theduckwebcomics.com/user/Banes/

Featured music:
The Gloom - http://www.theduckwebcomics.com/The_Gloom/, by Avart, rated M.