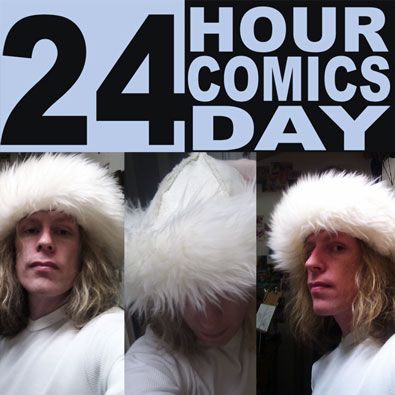 24 hour comics day is coming up soon!
Will you be participating? The event starts on the first Saturday of October, which falls on the 7th this year: the 7th of October 2017.
What IS 24 hour comics day? Well it's an event that was started by comics guru Scott McCloud many years ago in the mists of time and later on in 2004 it became a regular event. The objective is to write, plan, draw and finish a comic all in 24 hours, usually 24 pages long. It's a difficult challenge but it can be invigorating and inspiring. If you follow the rules strictly you can't plan the comic before the event and once the time is up all work ceases… but there have been many long running, great quality webcomics that had their genesis as 24 hour challenge comics- so if it's good, by all means keep working on it!

I myself have never really participated in a 24 hour comic day. The closest I came was making a fur hat for it. That was during a big event we had through Drunk Duck with the support of Platinum Studious I think. We had live video feeds of people working on their comics at the time and live chatrooms, it was a big thing! And I made a hat because truth be told I'm more of a hat making person than a comicer… But this year I'm aiming to participate and actually try a comic instead! The event here in Perth Australia will be held on the 23rd of September:
https://secure.facebook.com/events/519216635080483/

The official 24 hour comics blog:
http://www.24hourcomicsday.com/

Would you like to do a 24 hour comic thing through Drunk Duck?