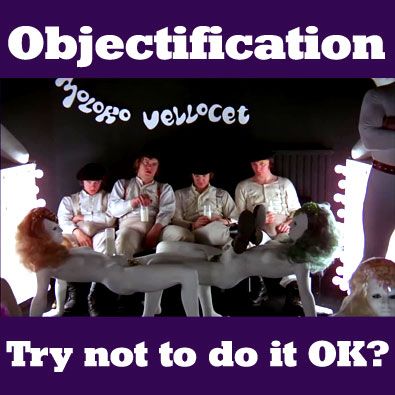 This is mainly an issue with female characters…
But what IS objectification?
Objectification is when you rob a character of traits that make them human and turn them into something closer to an object.

One common view, that I feel is in error, is that characters are objectified by how they're depicted and what they're wearing…

Why is that wrong?
Well a character, like a human, is not defined by their wardrobe or physical attributes. Though as Tantz Aerine has previously discussed in her newspost, it CAN tell you things about the character.

Wardrobe is a tell - http://www.theduckwebcomics.com/news/2017/sep/01/wardrobe-is-a-tell/
Communicating with clothes - http://www.theduckwebcomics.com/news/2017/sep/09/quackcast-339-communicate-with-clothes/

But you fundamentally misunderstand objectification if you reduce it to outfit and breast size. If that's the crux of your argument you haven't thought about it enough. The irony is that by focusing too much on the clothes or appearance you're the one doing the objectification, that's how it works.

Is the viewer being MADE to focus on the character's outfit and physical attributes and therefore be encouraged to sexually objectify the character? Or is it a case of the viewer not being able to look beyond those things?

In order to truly objectify a character you deny their humanity or you make them less human than other characters. This can happen with any type of character by anyone but in my experience it's mainly done to female characters when written by male writers. It seems to be an unfortunate cultural trait. When you're aware of it you'll notice it in comics, novels, and movies; the female characters are often lusted after, loved, they help, they nurture etc, but have no agency of their own and that becomes ineffably lame. Their role is often one dimensional and that consists of supporting the male characters or creating plot points or tension for them to work with- needing to be rescued or twisting an ankle, to bring up two old moldy classic examples.
It's just as prevalent in modern pop-culture, The Big Bang Theory is a great example; Penny and the rest of the female cast are secondary to the male characters, almost everything they do enables them while the females are never allowed the same level of well rounded humanity that the males are. Fundamentally they are objects of admiration. The entire premise of the show is based around the very simple concept that undersexed, childish nerds will acquire traits of respectable adult masculinity only when they manage to possess a girlfriend. The women in that show are basically strapons. :)

You could say that in the example of The Big Bang Theory the women are performing the role of reflection characters, but the context is important here; when most of the one dimensional reflection characters are female, and the main characters are male then you have a problem. Context is important though, always remember that! These things are relative: maybe ALL the characters are one dimensional? Maybe objectification is the joke or maybe there's something else? Marilyn Monroe and her imitators like Madonna, Kylie Monologue and Lady Gaga are key examples of this, early in their careers they owned the classic image of a sexually objectified woman and turned it around, capitalising in the sexual power it gave them instead of being ruled by it.

Why is objectification bad, especially if so many people do it?
I won't say it's always bad, but most of the time it is. Unfortunately it's a default so it's all too prevalent. If your female cast is objectified then they're not fully realised characters, this makes your work less relatable. If you have male characters chiefly interacting with female characters who're just cut-outs then your work will lag, sag and become lame and childish. Women are human beings as well.

There are also many instances where objectification can actually be good.
For example, a point of view story where things are viewed from one single perspective. That character can't be expected to see everyone as fully realised humans, they might only see their importance or use in terms of how they relate to themselves. An adult sex story is another example of where objectification is appropriate. In such stories the sex is often the focus, not characterisation. Similarly in classic retro styled adventure Pulp stories the plot is the main focus and not the characters. The main character is often barely any more realised than his objectified female sidekick. That's an established style and trope so it's good to play around with.

What do you think about objectification?