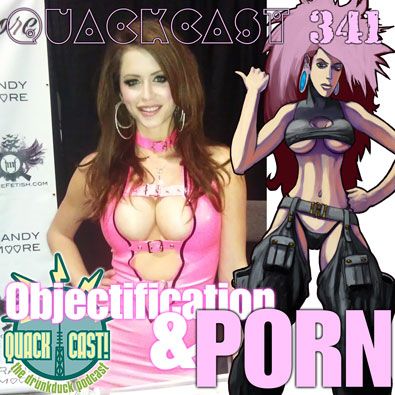 LISTEN!

In this Quackcast we chat about how objectification can rob the humanity from a character and turn them into a meaningless object which can in turn alienate your audience by making your work less relatable, but with things like porn where character is less important than the on screen action objectification is more acceptable.
We chat about the development of porn and why it became so objectified, from the early beginnings where story, setting and character were always a factor, till the days of home video and the internet and how that changed the balance due to various factors, and the way higher production values, better acting and story is actually making its way back in some instances. We also chat a bit about the differences between porn aimed at women and that aimed at men.
"Sexposition" in mainstream entertainment like Game of thrones is possibly an interesting outgrowth of the acceptability of pornography and the idea of mixing story and onscreen (simulated) sexuality.

The theme Gunwallace has given us this week was for Tomb Busters! It's compelling, regal, atmospheric, steel guitar country rock, this is a triumphant epic that will swallow you whole and leave you gasping for air. This is my new fave!

Topics and shownotes

Featured comic:
Mallory Bash - http://www.theduckwebcomics.com/news/2017/sep/19/featured-comic-mallory-bash/

Special thanks to:
Gunwallace - http://www.virtuallycomics.com
Tantz Aerine - http://www.theduckwebcomics.com/user/Tantz_Aerine/
PitFace - http://www.theduckwebcomics.com/user/PIT_FACE/
Ozoneocean - http://www.theduckwebcomics.com/user/ozoneocean

Featured music:
Tomb Busters - http://www.theduckwebcomics.com/Tomb_Busters/, by StorkStudio, rated T.