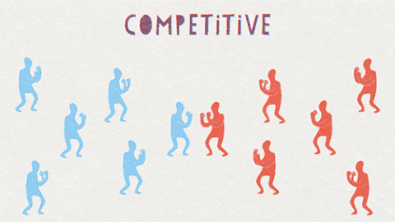 Ozoneocean suggested this topic, and I am intrigued to explore it.

I've made a good few posts about assorted drama in the comic world, especially between different factions and concerning different approaches to the art. Often that is addressed from a strictly ideological point of view. But today I want to consider the competition element. Often, an attack is a form of curbing competition, especially if it's an attack not on the actual merit of the art in question or the artistic product, but on the character of the creator, his/her politics or other identity. A sort of "don't buy" or "buy X's comics because he/she is leftist/ conservative/ progressive/ pro-X group/ etc". In an audience pool that often is presented as being limited, could we argue that a lot of the drama is created as a gimmick for promoting one title over the other?

I think at least to a point that holds true. There are instances where it even has been proven.

But the point is, is it working for comics?

In my opinion, I think it doesn't. It instead creates a very hostile and combative environment that might benefit some titles for a short period of time, but on the whole it dissuades people from engaging in a hobby attached to a very polarized community.

I think in this we can consider the webcomics community as a good comparison.

As far as I know, webcomics tend to have a more cooperative approach rather than competitive one. Cross promoting, mutual support of each other's titles and general celebration of the work of every webcomic creator seems to be the norm.

As a result, webcomics thrive. They are diverse, inclusive and extremely inviting to new creators. There is no gatekeeping in the content each creator puts on the web- if people like it they read on, if not they move on to the next title. But because the world is so vast and users so diverse, every webcomic has a niche to make and develop. Many artists can go on to monetize their work and some even make their comic their fulltime endeavor. There is also the element of reading on a screen than on paper that helps boost the advent of webcomics, but the mutual support that artists tend to afford one another helps even more.

There is a steady decline that is being reported on in the world of print comics, while webcomics are on the rise. And of course there are several other factors that can explain it, but I do think that the competition vs cooperation approach as a factor is an important element in it.

I believe that our community here at Drunk Duck perfectly illustrates the fact. We have always had an extremely supportive community based on cooperation and mutual growth. And from that only benefits have come for artists. I myself learned how to make comics because I joined Drunk Duck and didn't feel like the platform was an arena to single out the best but rather a hotbed of artistic growth from which I could benefit.

Have you ever experienced competition in comics or webcomics? How about cooperation?

Don't forget you can now advertise on DrunkDuck for just $2 in whichever ad spot you like! The money goes straight into running the site. Want to know more? Click this link here! Or, if you want to help us keep the lights on you can sponsor us on Patreon. Every bit helps us!

Special thanks to our patrons!!









Justnopoint - Banes - Rmccool - Abt Nihil - Phoenixignis - Gunwallace - Cresc - Pauleberhardt - Scruff - Dragonaur - Emma Clare - Dylandrawsdraws - Functioncreep - Eustacheus - Dillycomics - Barrycorbett - Sinjinsoku - Smkinoshita - Jerrie - Chickfighter - Andreas_Helixfinger
Tantz Aerine