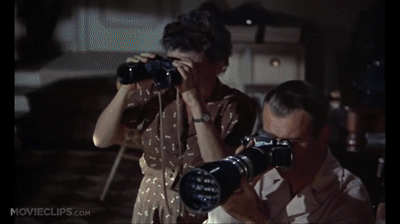 Nearly a billion people, perhaps more, are being confined in their homes as you read these lines, due to the Covid-19 quarantine to stem the pandemic. A good percentage are going stir-crazy right now, or are juggling with the limitations and necessary work-arounds of having to stay in a single enclosure. A wide range of things we're used to doing every day without even a thought, now become problems we need to creatively solve, or wait on authorities to facilitate for us. It's a hassle that can turn into a real problem.

And it makes for great storytelling.

Of course, as it holds for all stories, if done right. And more times than not, the secret in doing it right is to keep the audience as confined as the character is, as much as possible, so they can feel the limitations, feel the frustrations, and feel the plot constricting around them.

In general, placing a specific de facto limitation on a character makes for creative reactions and character development. The way characters work around and overcome (or don't overcome) the limitation speaks to their skills, abilities, and personality.

The same mechanism works for stories. Placing a limitation on the story/plot itself can make for unusual situations and encounters, as well as interesting plot developments and suspense. When the story can only take place within one room, or only through a phone, or only by proxy, immediately suspense on how this is to be achieved builds. It's then up to the creator to keep the suspense going!

Such stories are especially good for visual storytelling, as a lot of drama and pathos can be conveyed through the angles and layouts for webcomics, and directing for movies. And they also make for good short stories- a perfect combo for inspiration when you are confined, too! Channel that frustration in a neat short story webcomic with a severe confinement or limitation of some sort, and flex those creative juices.

What's that you say? You prefer to keep on working on what you're already working? Even better! Go on then!

Don't forget you can now advertise on DrunkDuck for just $2 in whichever ad spot you like! The money goes straight into running the site. Want to know more? Click this link here! Or, if you want to help us keep the lights on you can sponsor us on Patreon. Every bit helps us!

Special thanks to our patrons!!




Justnopoint - Banes - Rmccool - Abt Nihil - Phoenixignis - Gunwallace - Cresc - Pauleberhardt - Scruff - Dragonaur - Emma Clare - Dylandrawsdraws - Functioncreep - Eustacheus - Dillycomics - Barrycorbett - Sinjinsoku - Smkinoshita - Jerrie - Chickfighter - Andreas_Helixfinger
Tantz Aerine - Cdmalcolm1 - Epic Saveroom - Spacewitch - Alpharie - Genejoke - ArityWOlf - Davey Do - Spark of Interest - Gullas - Spark of Interest - Damehelsing - Roma - Nikolaimcfist - Nanocritters - Scott D - Bluecuts34 -
j1ceasar