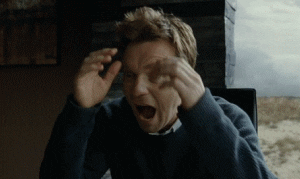 As the Orthodox Easter approaches, I set out to make the traditional sweet bread. It's a tricky affair, because the recipes are often unreliable, or something might happen which you realise too late, and the dough won't rise, or won't pull apart as it should. I ended up having one such disaster- my dough didn't rise. Neither of the two batches I made! I'm still not quite sure what the matter was. Probably the wrong kind of flour was used, or I kneaded the dough too much. Either way, it wouldn't rise.

The choice I had then, was either to throw it away, or repurpose it. Thankfully, my mother was there and helped me not throw it away after all. We made it into Easter cookies! And I will be honest, they are the best I've ever tasted.

The reason I talked about this, is because it made me think of story writing.

Sometimes, we write our story, and at some point, we realise that we have written ourselves into a corner, such a corner that we cannot save it without a complete rewrite, or even a complete transformation. Or it just doesn't work under the concept that we had when we started off. If we reach such a point, there's only two options for us: either ditch the entire story and start over with the proper setup that will yield the result we want, or go on as the story takes us, rather than what we initially had in mind.

Throwing away all of the work is often a waste, depriving us of something we may not have conceived of at the beginning, but ends up being a masterstroke. We may not get a romance story, for example, but instead end up with a beautiful story of emancipation and independence. Or we may not get a true mystery story, but end up with a great one on aftermaths or choices made.

The point I want to make is that before you completely throw away a story, give it a chance to become something else than what you initially try to make it be. It might surprise you, even if it's not what you wanted.

Then, by all means go back to the beginning, and write the story you initially wanted.

I'm going to make another sweet bread today, this time with the proper flour!

Don't forget you can now advertise on DrunkDuck for just $2 in whichever ad spot you like! The money goes straight into running the site. Want to know more? Click this link here! Or, if you want to help us keep the lights on you can sponsor us on Patreon. Every bit helps us!

Special thanks to our patrons!!




Justnopoint - Banes - Rmccool - Abt Nihil - Phoenixignis - Gunwallace - Cresc - Pauleberhardt - Scruff - Dragonaur - Emma Clare - Dylandrawsdraws - Functioncreep - Eustacheus - Dillycomics - Barrycorbett - Sinjinsoku - Smkinoshita - Jerrie - Chickfighter - Andreas_Helixfinger
Tantz Aerine - Cdmalcolm1 - Epic Saveroom - Spacewitch - Alpharie - Genejoke - ArityWOlf - Davey Do - Spark of Interest - Gullas - Spark of Interest - Damehelsing - Roma - Nikolaimcfist - Nanocritters - Scott D - Bluecuts34 - j1ceasar