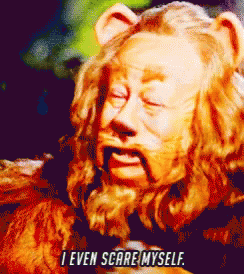 Though I am certainly no stranger to handling the horrific in my creations, horror as a genre is something I never dabbled in before.

Horror scares me the same way comedy does!

While I can crack jokes, I always feel I can never do it on demand, or consistently think and set up situations that will lead to the audience laughing (except rarely). In the same vein, I feel that I can never scare people like, say, Poltergeist can.

Horror requires a setup that aims wholly for the emotional response, rather than the cerebral one. It aims to make your gut clench (and other strategic locations of your body) as you watch but wish you could turn away.

I …don't really do that in my work, or at least that's how I've been thinking of my work until recently. But since I want to pitch in for the DD Anthology, I have had to rethink it.

If I can do drama, I can do horror, I thought to myself. Both are appeals to emotion. I just need to tweak the way I appeal to said emotion.

One way is to go the way of the unease through art and atmosphere, which is amazing, but I don't really feel I got the skill necessary for unnerving art (though I will try).

Another way is to go the way of dialogue and slowly making normal things appear completely not normal, but not necessarily be able to tell how until the endgame, a la Stepford Wives, where everything is sunny and prim and lovely and horrific.

That, I feel, I can do a lot more. And so I am approaching horror with more courage!

Since it is an appeal to emotion though, there are a lot more ways to approach it, I bet. What will yours be?

Submission for pitches for the DrunkDuck Anthology are open!
You have until 31 August to get them in! Check out PIT_FACE's article for more information on the theme and getting your pitch ready for submission or you can head on over to the forum. You can also join the community on the Discord server.

Don't forget you can now advertise on DrunkDuck for just $2 in whichever ad spot you like! The money goes straight into running the site. Want to know more? Click this link here! Or, if you want to help us keep the lights on you can sponsor us on Patreon. Every bit helps us!

Special thanks to our patrons!!





Justnopoint - Banes - RMccool - Abt_Nihil - PhoenixIgnis - Gunwallace - Cdmalcolm1 - PaulEberhardt - dragonaur - Emma_Clare - FunctionCreep - Eustacheus - SinJinsoku - Smkinoshita - jerrie - Chickfighter - Andreas_Helixfinger - Tantz_Aerine - Epic Saveroom - Genejoke - Davey Do - Spark of Interest - Gullas - Damehelsing - Roma - NanoCritters - Scott D - Bluecuts34 - j1ceasar - Tinchel - PhillipDP - Teh Andeh - Peipei - Digital_Genesis - Hushicho