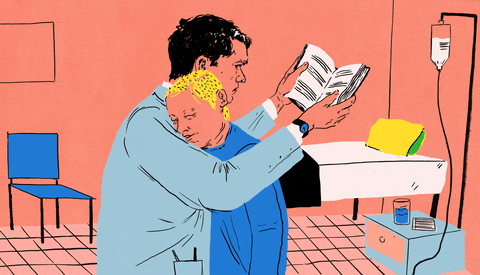 For most of us, creating webcomics is a side hustle; a hobby or "second job" that we come home to after we're done with our day jobs. In many ways you make your own rules and set your own hours, however, this can lead to an underlying sense that you're not "doing enough". Learning to balance this anxiety can be a challenge but here are some tips to help you manage the feeling of "not doing enough".

Empty your brain by doing a to-do list
When you let thoughts of what needs to be done float around in your head it can stimulate that sense of anxiety and, in turn, lead to procrastination. By sitting down and writing a list of priorities, not only do you clear your mind, you are able to visually see your progress and thus, feel less guilty about taking time for yourself.

Recognise when you're comparing yourself to others
With the increased prevalence of social media, it's easy to compare yourself to others, exacerbating the feeling of inadequacy. Seeing others post art every day or what they are doing in general, generates the FOMO feeling. When you sense that coming on, put the phone down. Take a moment to remember that what people post and who they are can be disconnected from each other. Focus on yourself for a moment. Everyone has their own pace and that's okay. Sit by yourself, take a few breaths and enjoy a few minutes of calm without distractions. As Pablo Picasso said, "Without great solitude no serious work is possible."

Celebrate your achievements, big and small!
When you put one foot in front of the other, eventually you arrive at your destination, so take the time to pause and celebrate your progress as you go along. Some days, the achievement is putting your shoe on when you didn't want to. Sometimes, it's completing the marathon. When you feel like you've achieved something. Pat yourself on the back.

Find ways to enjoy the "process"
With comics, sometimes getting to your desk to put pen onto paper is hard. There is a lot involved in creating a comic and there will be tasks you put off because they're not interesting to you. When you begin feeling this way, take a moment to think why that is. Take for instance, doing lineart. You might find it boring and therefore put it off. Rather than avoid the task, research ways you can make your process quicker, or find new techniques you can use. Set yourself a small goal to achieve and you'll soon find that not only do you enjoy the process more, but you'll improve your skills as well!

Do you struggle with feeling like you're not doing enough? How do you manage that? Let us know in the comment section below! And join us on Sunday evening for our Quackchat at 5:30PM(EST)!

Don't forget you can now advertise on DrunkDuck for just $2 in whichever ad spot you like! The money goes straight into running the site. Want to know more? Click this link here! Or, if you want to help us keep the lights on you can sponsor us on Patreon. Every bit helps us!

Special thanks to our patrons!!




Justnopoint - Banes - Rmccool - Abt Nihil - Phoenixignis - Gunwallace - Cresc - Pauleberhardt - Scruff - Dragonaur - Emma Clare - Dylandrawsdraws - Functioncreep - Eustacheus - Dillycomics - Barrycorbett - Sinjinsoku - Smkinoshita - Jerrie - Chickfighter - Andreas_Helixfinger
Tantz Aerine - Cdmalcolm1 - Epic Saveroom - Spacewitch - Alpharie - Genejoke - ArityWOlf - Davey Do - Spark of Interest - Gullas - Spark of Interest - Damehelsing - Roma - Nikolaimcfist - Nanocritters - Scott D