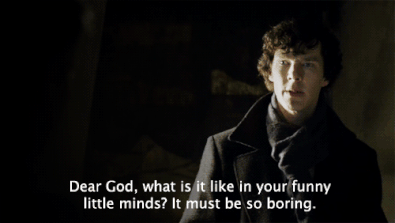 Everyone loves a genius! The character that has the answers, or makes the deductions, or solves the puzzles for the team. The guy (or gal) that will have a gift for noticing what nobody else does, sees the connections that elude everyone else. Even in stories that aren't of the fantasy genre, such a character seems magical.

Even when they are annoying or downright obnoxious, they are often highlights in the story's cast, if nothing else because we know they will come up with a way to get the rest of the team out of a rut.

However, writing a genius might be challenging for the creator because they may threaten the ever-so-precious suspension of disbelief for the audience. That can happen if the genius character is a little too brilliant. If the genius character seems to have a cheat sheet for the story's plot, if he/she seems to get the answers by pulling them out of thin air or getting one too many 'lucky guesses' or 'gut instincts', then suspension of disbelief might collapse.

That's why writing a character like, say, Sherlock Holmes can be so tricky. In the two latest (and most famous) iterations of the character, one by BBC with Benedict Cumberbach and one on the other side of the pond with Robert Downey Jr., that can be a bit apparent. Though in both versions Sherlock has an insane level of accurate guesses when puzzling out a mystery, Downey's version is a bit less believable (albeit entertaining) than Cumberbach's exactly because Downey's deductions don't feel as earned: he is written more like a demigod, a superhero rather than a human being with superior intellect because as an audience, we don't get to have a part in his process (however fantastical it may be), while in Cumberbatch's version we absolutely do.

And this is the big pivot for 'selling' a genius character: his/her process of arriving at the genius conclusion must be presented in such a way that the audience can partake in it, feel like they have gone through the deductive process together with the character. For example, the clues have to be in place and presented for the audience before the character pieces them together to arrive at the genius deduction. That way on a second read through or watch, the audience will be able to see them there, even if originally they overlooked them. We must see the genius character fingering things, looking pointedly at elements or doing a double take at something, even if we don't understand why, so that when they do come up with the solution, we can remember that they were actually processing information that was also available to us, but we just didn't notice it as they did.

That is what gets the sensation that the character is more clever than us, even if the whole thing is a trick by the creator's choice of angles and focus (in movies and comics) or careful descriptions (in novels) designed to make us overlook what the character doesn't.

Bottom line- you don't have to be a genius to write a genius, but you definitely must know how to set a genius up!

How do you deal with geniuses in your cast? Do you have any?

Don't forget you can now advertise on DrunkDuck for just $2 in whichever ad spot you like! The money goes straight into running the site. Want to know more? Click this link here! Or, if you want to help us keep the lights on you can sponsor us on Patreon. Every bit helps us!

Special thanks to our patrons!!







Justnopoint - Banes - Rmccool - Abt Nihil - Phoenixignis - Gunwallace - Cresc - Pauleberhardt - Scruff - Dragonaur - Emma Clare - Dylandrawsdraws - Functioncreep - Eustacheus - Dillycomics - Barrycorbett - Sinjinsoku - Smkinoshita - Jerrie - Chickfighter - Andreas_Helixfinger
Tantz Aerine - Cdmalcolm1 - Epic Saveroom - Spacewitch - Alpharie - Genejoke - ArityWOlf - Davey Do - Spark of Interest - Gullas - Spark of Interest - Damehelsing - Roma - Nikolaimcfist - Nanocritters - Scott D - Bluecuts34