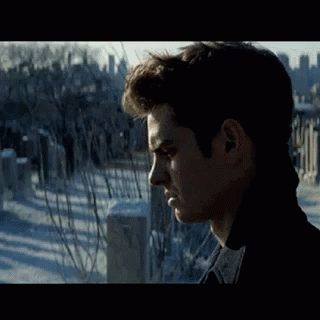 What made a character be who he/she is? What is it that drives them, and why?

That's the allure of any origin story: we get to see how characters we look up to or love or love to hate came to be who they are.

Most, if not all, of human behavior is the sum of the individual's learning history, as behaviorists say. They act in the way they have learned is the most efficient for their survival (or subsistence) in the world. This is a tough realization to consider, because if accepted as a principle, the logic will lead us down the path of perhaps uncomfortable discoveries and truths about ourselves, our environment, and our pasts.

But when it comes to characters in stories, it's just fascinating to be able to watch the connections being drawn between the moments that shaped and continue to shape who they are, what they do, and why they do it. The defining moments.

What makes a moment defining?

It can be good or bad. It can be a break or a tragedy. Whatever it is, it resonates with the character in a way that it becomes a life lesson: it may teach him/her that with great power comes great responsibility. It might teach them never to trust anyone, or never allow anyone become their loved one. Or, it might teach them that there is good in everyone if looked hard enough, or that hard work can yield happiness.

The lessons they learn from their defining moments aren't necessarily correct ones.

If the defining moment's lesson is wrong, then unlearning it might be the biggest part of that character's journey and development.

If the defining moment's lesson is correct, then staying true to it or relying on it to push through the challenges the character will face might be pivotal instead.

And then, there's the defining moment that isn't just the onset of a character trait or part of the personality of the character, but also the onset of the character's hero's journey. It might be a tragedy that sets the character on the path of revenge, or to solve a mystery about it, or to prevent such tragedy from occurring to others. Or, in the case of a villain, to inflict it unto others.

It might also be a good event, something that stands out so much that the character is determined to do something for his/her benefactor, or adhere to the benefactor's admonitions or requests, or do unto others as was done to him/her.

Whatever they are, a character's defining moments are fascinating, because they are the buttons that make him/her tick. If we know what they were and how they impacted him/her, we can predict fairly accurately how he/she will react.

Sometimes, when telling the story, we choose to reveal these defining moments, sometimes not. But as creators, we ought to know them for our characters to keep them consistent and memorable!

So what are your characters' defining moments?

Don't forget you can now advertise on DrunkDuck for just $2 in whichever ad spot you like! The money goes straight into running the site. Want to know more? Click this link here! Or, if you want to help us keep the lights on you can sponsor us on Patreon. Every bit helps us!

Special thanks to our patrons!!




Justnopoint - Banes - Rmccool - Abt Nihil - Phoenixignis - Gunwallace - Cresc - Pauleberhardt - Scruff - Dragonaur - Emma Clare - Dylandrawsdraws - Functioncreep - Eustacheus - Dillycomics - Barrycorbett - Sinjinsoku - Smkinoshita - Jerrie - Chickfighter - Andreas_Helixfinger
Tantz Aerine - Cdmalcolm1 - Epic Saveroom - Spacewitch - Alpharie - Genejoke - ArityWOlf - Davey Do - Spark of Interest - Gullas - Spark of Interest - Damehelsing - Roma - Nikolaimcfist - Nanocritters - Scott D - Bluecuts34 - j1ceasar - Kamourian King - Tinchel - Phillipdp - Teh Andeh