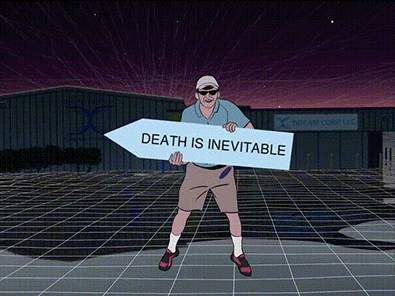 Whether it be planned from the beginning, or a sudden decision, some characters just have to go. As a creator, one should endeavour to do it for the right reasons. Shuffling off this mortal coil may be a catalysing event for the plot, a much needed kick for the protagonist or a well deserved cosmic slap of karma; whatever the circumstances may be, it is an important and often used plot device.

It is easy to cheapen death with a fake out and although it can be done well, if you want to make an impact, leave the characters in the grave! Death is final. Removing a character from this mortal coil has real and lasting consequences for the other characters in the story. However, it can quickly become undermined the moment they pop up out of the earth, (unless it's a zombie in which case you get a pass). If you want the loss to really sting and linger, then let them go.

When constructing your story outline,think about if and why you're planning to have a character die or be merciful and keep them alive. Although the creative process is fluid and even the most well laid out plans and plots can change, keep this question in your mind, "What purpose would my character's death be fulfilling?". As a comic creator you're well within your rights to design a character to die, just keep in mind this question and be open to the possibility that maybe they would better serve the story alive.

Have you ever planned a character's death from the start? Did that change? Let us know in the comment section below! And join us on Sunday evening for our Quackchat at 5:30PM(EST)!

Don't forget you can now advertise on DrunkDuck for just $2 in whichever ad spot you like! The money goes straight into running the site. Want to know more? Click this link here! Or, if you want to help us keep the lights on you can sponsor us on Patreon. Every bit helps us!

Special thanks to our patrons!!









Justnopoint - Banes - RMccool - Abt_Nihil - PhoenixIgnis - Gunwallace - Cdmalcolm1 - PaulEberhardt - dragonaur - Emma_Clare - FunctionCreep - Eustacheus - SinJinsoku - Smkinoshita - jerrie - Chickfighter - Andreas_Helixfinger - Tantz_Aerine - Epic Saveroom - Genejoke - Davey Do - Spark of Interest - Gullas - Damehelsing - Roma - NanoCritters - Scott D - Bluecuts34 - j1ceasar - Tinchel - PhillipDP - Teh Andeh - Peipei - Digital_Genesis - Hushicho -
Sad Demon Comics - JediAnn Solo - Kiddermat