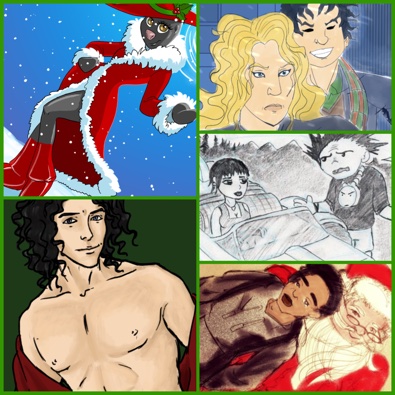 Photo: (clockwise from upper left) nightmarelunatic's gift for Andreas_Helixfinger; sleeping_gorilla's for Tantz_Aerine; lothar's gift for usedbooks; kawaiidaigakusei's gift for davidxolukoga; and Tantz_Aerine's gift for hushicho.

A huge Thank You goes out to all the participants of this year's Secret Santa gift art exchange! Everyone who signed up followed through and completed their gift by the day it was due, and for that reason alone, I am thankful. All of the gift art can be found in the Networking and Community forums as well on the 2021 Secret Santa webcomic page started by sleeping_gorilla.

Hopefully these works will inspire more people to join future community projects.

Forum: https://www.theduckwebcomics.com/forum/topic/178890/
Webcomic: https://www.theduckwebcomics.com/2021_Secret_Santa/


MILESTONE




The Magical Adventures of Kirke Ketterley by Hushicho

Hushicho writes:

Hello!

I just wanted to let you know that the first book of The Magical Adventures of Kirke Ketterley is just now complete. Eight chapters of magical fun have run for several years, and there'll be a break before the next story can begin.

I hope this is okay for letting you know, and thanks as always for being awesome!

Synopsis

The Magical Adventures of Kirke Ketterley follows the wondrous escapades of magus-in-training Kirke Ketterley! An exceptional student at the Norwich Academy, a finishing school of sorts for the magically-inclined, he and his friends find magic in things far and close to home. The comic contains gay and BL themes, whimsical magic, and ample nudity, but no explicit sexual content as of yet.

Link: https://www.theduckwebcomics.com/The_Magical_Adventures_of_Kirke_Ketterley/


.::.
What's Quacking?
Do you have any original art to contribute to our stock image database, announcements, community projects, ideas, news, or milestones to report? Please leave general comments below or send a PQ to kawaiidaigakusei. Email me at kawaiidaigakusei(at)gmail(dot)com.