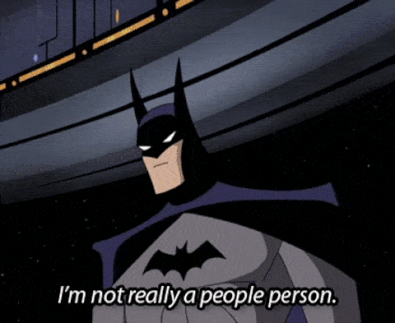 Silent types can be very alluring. They don't really engage with other people, they are content to be on their own, they have developed their own special, unique manner of wading through life independently, which makes them interesting. They are their own kind of strong, even if they are avoiding people due to phobias or other situations that may mark them as weak by others or themselves.

As alluring and cool as they are, such characters are hell to write- because they are loners. Because they don't really engage with other people. Because they are content to be on their own.

It's very hard to have them show who they are, rather than force the writer to just tell the audience about them, which of course is not the best course of action if the audience is to care about them.

There are different ways to work around that issue. Depending on the style and genre of the story, they all can work well to maintain the feel of a character being a loner, while writing him/her into situations where his/her behavior can reflect his/her personality, philosophy, morals, goals, etc.

One way is the "voiceover": the loner doesn't really interact with many people at all, but we are in his/her head, listen to his/her thoughts as they consider situations, problems, and dilemmas. This works well in noir stories, coupled with atmospheric angles and imagery from panel to panel.

Another way is to force the loner to interact with people that just won't stay away, for one reason or another. They may find a helpless character in their path- like a baby or toddler- that they begrudgingly take care of. They may be followed by a particularly persistent dog or cat. They may be hounded by another character that needs them to do something, for one reason or other: help them find something/someone, help them solve a problem, and so on.

On the flip side, they may be forced to seek out interaction themselves even though they don't want it, for one reason or other: something they deeply care about is at stake, and they need other peoples' help to do it. Someone has contractually obligated them to stick around a set of other characters, or to mentor someone even if they don't feel up to doing it. (or they decide to do it even if it goes against their personality, because they believe it's more important than their personal comfort)

Often, the loner character's arc revolves around them being a loner, and getting coaxed into developing a social net of sorts, that will protect them emotionally and/or physically despite their original stance/belief that they don't need it or they don't deserve to have it. That doesn't mean they become the 'soul of the party', but rather that they learn the value of team work and being part of a group as much as the value of being alone.

Other times, they have a different arc, where they learn something to better themselves that has little to do with their being loners, and they drift from group of characters to group of characters, amassing experiences without ever 'settling down' to be perpetually with any single one group. Often in such cases, they never meet the same people again in new stories or new chapters of the story after they say goodbye.

And still others, especially in strictly episodic stories, the character isn't the one that changes, but rather the environment he/she visits as he/she drifts from one place to the next. It's the characters he/she interacts with that change through interaction with him/her, rather than vice versa. When the change has been achieved (i.e. the character arc for the episodic characters has been completed) the loner simply moves on, never to return again.

Have you got loners in your webcomic casts? How do you handle them?

Don't forget you can now advertise on DrunkDuck for just $2 in whichever ad spot you like! The money goes straight into running the site. Want to know more? Click this link here! Or, if you want to help us keep the lights on you can sponsor us on Patreon. Every bit helps us!

Special thanks to our patrons!!










Justnopoint - Banes - RMccool - Abt_Nihil - PhoenixIgnis - Gunwallace - Cdmalcolm1 - PaulEberhardt - dragonaur - Emma_Clare - FunctionCreep - Eustacheus - SinJinsoku - Smkinoshita - jerrie - Chickfighter - Andreas_Helixfinger - Tantz_Aerine - Epic Saveroom - Genejoke - Davey Do - Spark of Interest - Gullas - Damehelsing - Roma - NanoCritters - Scott D - Bluecuts34 - j1ceasar - Tinchel - PhillipDP - Teh Andeh - Peipei - Digital_Genesis - Hushicho - Sad Demon Comics - JediAnn Solo - Kiddermat - BitterBadger - Palouka - cheeko - Paneltastic - L.C.Stein