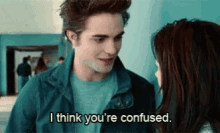 There is a gripe that I have when it comes to romance. It might be the reason I don't really like reading romance as a genre, and while I am aware that not all works in the romance genre are like this, there are too many for me to want to risk it easily:

Lollipop toxicity.

At least that's what I call it: the relationship depicted between the couple is somehow blatantly not healthy, and yet it is portrayed by the author as ideal, desirable, or even ideal. In short, it is displayed to be romantic rather than hellishly horrible.

There are many iterations of this:

- the man may be rude, gaslighting, abusive, or stalking the woman (or if it's a gay couple, one partner does it to the other one) claiming he is doing it out of love or concern.
- the woman might be physically or verbally abusive to the man (or again, if gay, one partner to the other) but he is supposed to take it because he is 'the man' or 'the strong one' or 'the one to save the other' or 'the one to fix the other'
-either the man or the woman are cold, distant, and rude, neglecting the relationship or doing things to specifically hurt the other, but then come around with some token of appreciation before the cycle starts again

I'm sure there are others that I forget, but you get the picture.

This is an unhealthy direction to take a couple you want to portray as having a healthy, robust relationship that benefits both.

Sometimes I wonder if creators opt for this because this is the only way they think they can generate drama or friction, and thus create suspense or high stakes for their story.

If so, it is a fallacy. Drama and suspense can be generated in a story where the couple actually has a healthy relationship. Healthy relationships are not all sun and roses. There are rough spots, there are low points, they pass through trying times that test the integrity of the connection. The difference lies in that both partners have mutual respect for each other, and do not wish harm on the other, or 'hurt out of spite' or some such thing.

I dare say it could even be more impactful, if a healthy couple has to face a crisis, rather than a dysfunctional one.

What do you think?

Don't forget you can now advertise on DrunkDuck for just $2 in whichever ad spot you like! The money goes straight into running the site. Want to know more? Click this link here! Or, if you want to help us keep the lights on you can sponsor us on Patreon. Every bit helps us!

Special thanks to our patrons!!





Justnopoint - Banes - RMccool - Abt_Nihil - PhoenixIgnis - Gunwallace - Cdmalcolm1 - PaulEberhardt - dragonaur - Emma_Clare - FunctionCreep - Eustacheus - SinJinsoku - Smkinoshita - jerrie - Chickfighter - Andreas_Helixfinger - Tantz_Aerine - Epic Saveroom - Genejoke - Davey Do - Spark of Interest - Gullas - Damehelsing - Roma - NanoCritters - Scott D - Bluecuts34 - j1ceasar - Tinchel - PhillipDP - Teh Andeh - Peipei - Digital_Genesis - Hushicho - Sad Demon Comics - JediAnn Solo - Kiddermat - BitterBadger - Palouka - cheeko