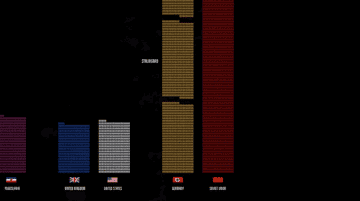 The original quote from which the title is derived is attributed to Joseph Stalin. And while it can sound cynical and harsh, it is unfortunately true: the human mind boggles beyond a cut off point when it comes to grasping numbers tangibly, not theoretically. When the numbers become too high, it's hard to conceptualize the sheer span of impact of any concept, from death to poverty to gallons of water. And if it's hard to conceptualize, it's hard to feel strong emotions about it.

That's why it is a lot easier to generate an emotional reaction when focusing the impact of something to a single, or very few entities, rather than talk in big aggregates. When people turn into numbers, it's hard to relate. But when whatever we're talking about happens to a baby, or a child, or a young or older person we can tangibly think about, or look at, then we immediately make the emotional connection required for that impact to resonate with us.

That's why visualizing scale is extremely important. The gif accompanying this article shows in a very concrete, visual manner, the number of dead during WWII per country. The red column is that of the USSR.

As you watch the tower of red dots go on and on and on, how does it feel? Would it feel the same if you were just told that the military casualties of WWII for the USSR were a little over 13,5 million?

Keeping this concept in mind when creating art, a balance has to be struck between scale and focus. For the impact of something that is supposed to affect many people to resonate with an audience, a tried and true method is to ease the viewers (or readers) into the experience by focusing on a single unit- be that a single character or a small numbered group of characters that the audience can know and identify with.

During the development of the plot, reveal the scope of what is happening to the focused-on characters by 'zooming out' in a sense, to visually show how many more have been subjected to the same experience. It's highly likely the audience will then feel the tragedy resonate within, not only for the one person, but for the entire statistic.

Don't forget you can now advertise on DrunkDuck for just $2 in whichever ad spot you like! The money goes straight into running the site. Want to know more? Click this link here! Or, if you want to help us keep the lights on you can sponsor us on Patreon. Every bit helps us!

Special thanks to our patrons!!





Justnopoint - Banes - RMccool - Abt_Nihil - PhoenixIgnis - Gunwallace - Cdmalcolm1 - PaulEberhardt - dragonaur - Emma_Clare - FunctionCreep - Eustacheus - SinJinsoku - Smkinoshita - jerrie - Chickfighter - Andreas_Helixfinger - Tantz_Aerine - Epic Saveroom - Genejoke - Davey Do - Spark of Interest - Gullas - Damehelsing - Roma - NanoCritters - Scott D - Bluecuts34 - j1ceasar - Tinchel - PhillipDP - Teh Andeh - Peipei - Digital_Genesis - Hushicho - Sad Demon Comics - JediAnn Solo - Kiddermat - BitterBadger - Palouka - cheeko