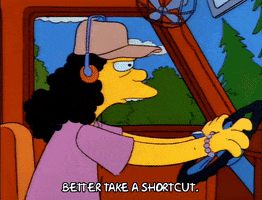 One of the latest twitter dramas seem to be around artistic shortcuts, and how consumers of comics and webcomics (often non-artists) tend to scoff at any artist that dares admit they use them.

Comic shortcuts could include pre-rendered backgrounds, using 3D programs to arrange spaces or make sure perspective is correct, using 3D models to properly position your character in the frame and draw over them (can I use the T word for this? heresy!), taking photos of yourself posing as the character or photos of your hands to properly draw a grip, etc.

Shortcuts can even be choices of paneling, certain angles to convey scenes, and a lot more.

Comic shortcuts are NOT tracing over other people's art. That's just art theft. Just wanted to make that clear.

What these shortcuts do is dramatically shorten the amount of time necessary for making a comic page, be it for print comics or webcomics. When artists need to crank out several pages in a short amount of time, shortcuts will help them retain their mental and physical health. Overwork and abuse of the hand happen a lot more than people not involved in art would imagine.

Especially if comics are to be updated regularly, while artists also hold down jobs and manage other aspects of daily life, shortcuts can be a lifesaver.

And as this artist aptly said, shortcuts can't be used by amateurs the way they are used by professionals. In order to be able to use a shortcut, you need to have a good understanding of how what you're doing works. That includes anatomy, perspective, proportions, etc. People that don't know how any of that works won't be able to produce work at the same level as those who do just by using the shortcut.

For example, let's take the 3D models of characters. Posing them and using them for a panel is only a shortcut to puzzling out the form in space. Everything else (the particular OC's body type, general posture, personality/body language, clothing, etc) has to be applied on the model by the artist. Otherwise the end result will look stiff and rigid and uniform across characters like… well, a 3D model!

Same goes for photos. I take photos of myself (or my mom takes them for me) for specific poses of ALL of my cast. But if I simply trace over myself I won't be able to depict a child, a teen, a tall man or curvy woman, and so on. Let alone that everyone will look like me in wigs. It won't work. The only thing a photo helps me do is understand how the form of the body will exist in the space I need it to exist and how movement can be conveyed.

Would I be able to do it without the photo ref? Absolutely. But it would take me triple the time it does with the photo ref because I would pose and repose the skeleton until I puzzled out the movement, weight distribution, and balance necessary for what I want to convey. And I don't know about you, but I don't think that's a smart thing to do when working on a deadline.

Don't forget you can now advertise on DrunkDuck for just $2 in whichever ad spot you like! The money goes straight into running the site. Want to know more? Click this link here! Or, if you want to help us keep the lights on you can sponsor us on Patreon. Every bit helps us!

Special thanks to our patrons!!






Justnopoint - Banes - RMccool - Abt_Nihil - PhoenixIgnis - Gunwallace - Cdmalcolm1 - PaulEberhardt - dragonaur - Emma_Clare - FunctionCreep - Eustacheus - SinJinsoku - Smkinoshita - jerrie - Chickfighter - Andreas_Helixfinger - Tantz_Aerine - Epic Saveroom - Genejoke - Davey Do - Spark of Interest - Gullas - Damehelsing - Roma - NanoCritters - Scott D - Bluecuts34 - j1ceasar - Tinchel - PhillipDP - Teh Andeh - Peipei - Digital_Genesis - Hushicho - Sad Demon Comics - JediAnn Solo - Kiddermat - BitterBadger - Palouka - cheeko - Paneltastic - L.C.Stein - Zombienomicon
- dpat57