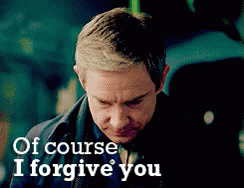 Forgiveness is a wonderful thing. It's an emotion, it's a state of mind, it's a process.

It's a process that takes at least two parties to even begin to happen.

The problem is that in life and in fiction, this is often misconstrued as something that is done by choice and independently of the situation and the target of the forgiveness.

I'll be more specific.

The cliche (because it is a cliche) goes that when an injury has been done to a person by a perpetrator, this person is the only one responsible for forgiveness. They are supposed to forgive in order to a) be free and b) be superior to the trangressor, both in ethics and integrity of character. This foregiveness is often portrayed as being given without even having been asked.

Everyone has seen scenes where the victim raises up defiantly, and says "I forgive you" to the perpetrator, as if they're uttering some ultimate-move spell. Often this forgiveness just short-circuits the perpetrator and they go insane, or get enraged, or whatever the plot wants them to do.

Alternatively, this "I forgive you" leaves the perpetrator confused, but the victim is swathed in a blissful state of ecstasy of sorts, finally feeling better and now is able to be happy.

THIS IS NOT HOW FORGIVENESS WORKS.

Forgiveness is NOT the same as just letting go of a grudge and moving on. I often see it conflated and it sends a bad message.

Forgiveness is something that is half-earned, half-given, and it is done after the perpetrator has actively repented and basically completely changed in disposition and character when it comes to the transgression at hand.



forgiveness done right in ATLA

Forgiveness is something that is mainly asked for through actions, not words. It is given when steps to heal wounds are taken, and the behavior that is to be forgiveness simply does not repeat again.

Teaching through stories and real life that the burden falls on the victim to forgive, because if they don't they are somehow unworthy, petty, or any range of negative qualities to their character, is a type of abuse.

It is also unfair to the perpetrator, because they are taught to be entitled to a waiving of the consequences of their actions. Especially when in stories, the perpetrator goes right back to their usual personality/character/antics that put them in a position to need forgiveness- double points when this is framed as being cute.

Bottom line: forgiveness is a process that takes two parties. The victim needs to heal and the perpetrator needs to contribute to this healing process while they also evolve to become someone who would never commit the transgression they're being forgiven for.

You forgive someone's past self, because they're not that person anymore. Because that is the reward for shedding their skin and developing a new one.

Have you had a forgiveness arc in your stories? If so, how did you handle it?

Don't forget you can now advertise on DrunkDuck for just $2 in whichever ad spot you like! The money goes straight into running the site. Want to know more? Click this link here! Or, if you want to help us keep the lights on you can sponsor us on Patreon. Every bit helps us!

Special thanks to our patrons!!






Justnopoint - Banes - RMccool - Abt_Nihil - PhoenixIgnis - Gunwallace - Cdmalcolm1 - PaulEberhardt - dragonaur - Emma_Clare - FunctionCreep - Eustacheus - SinJinsoku - Smkinoshita - jerrie - Chickfighter - Andreas_Helixfinger - Tantz_Aerine - Epic Saveroom - Genejoke - Davey Do - Spark of Interest - Gullas - Damehelsing - Roma - NanoCritters - Scott D - Bluecuts34 - j1ceasar - Tinchel - PhillipDP - Teh Andeh - Peipei - Digital_Genesis - Hushicho - Sad Demon Comics - JediAnn Solo - Kiddermat - BitterBadger - Palouka - cheeko - Paneltastic - L.C.Stein - Zombienomicon