Welcome to the new Friday news feature:
The DD Fashion Spotlight!

This is where we'll highlight fashionable characters from comics on Drunk Duck. We'll talk about their outfits and it will be a great way to promote comics on DD without all the restrictions that a feature entails… Comics that are not updating, have fewer than 15 pages, are in the top ten, that have already have a spotlight or feature before, and even comics that are adult rated are all eligible. To start off I picked an easy one, characters from Charby The Vampirate by Amelius.



First off we have Zerlocke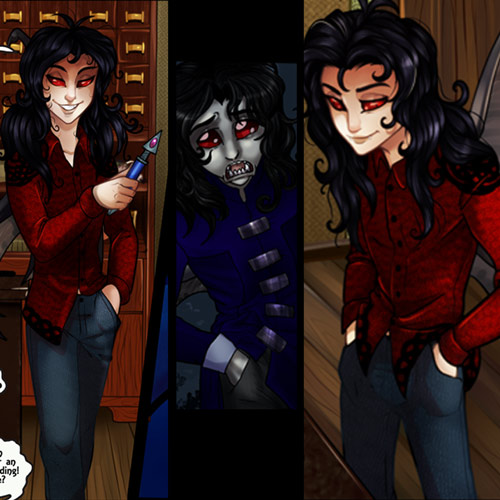 He's a tall, stylishh, red eyed dandy with waves of lucious black shiny hair and bat wings. Traditionally he's sported a rather gothic, tight wasted, full skirted navy blue coat with rows of parallel metal buckles up the front. But lately he's updated his look with straight leg jeans paired with a dark red printed, tight fit, long sleeve shirt with a black decorated hem. It's untucked and loose. He's looking groovy, ready for a club or a night on the town.


Next up we have the demonic Xzack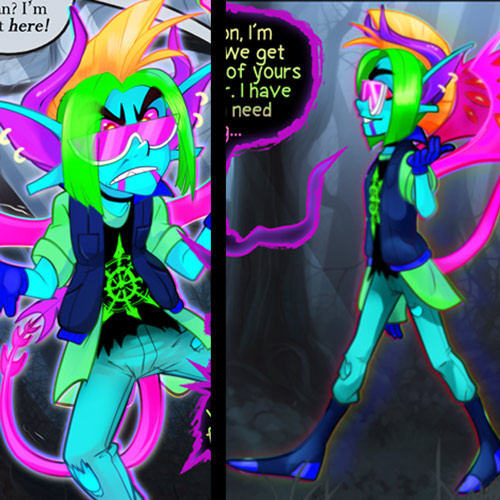 He's a short, slim, neon 90s dude with blue skin, big ears, purple horns, a tail, and pink wings. He's sporting a neon green bob cut and orange mohawk combo hairstyle. Torn, tight, teal trousers are tucked into slim blue boots. Up top he's wearing layers! A chaos themed ripped black T-shirt under an unbuttoned short sleeve green shirt, all topped off with a sleeveless blue vest with a high demonic collar and pockets! The colour of the vest accents matches his boots and short gloves perfectly. The final touch are his two gold rings in each oversized ear and pink plastic sunglasses which match the pink lines framing his chin. He's ready to rock in this outfit, ready to get radical and exretreeme!


Our final fashionista for the day is the top-hatted Kavon!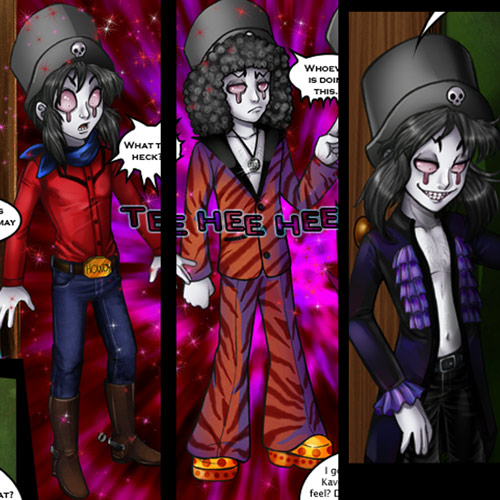 He's a short, slim fellow with ghostly white skin, big shiny pink, pearly eyes with stylised teardrops and teeny pupils, short black hair with long side locks, and of course his big fat black top hat with its short brim decorated with a little metal skull. Normally he sports a simple look consisting of a slim black coat, black T-shirt and dark brown trousers, but here the lovely Mye has enchanted his look…

-So we have him being a cowboy with tight blue jeans, a brown leather belt with huge brass Howdy buckle, brown leather boots with spurs, skin tight red cowboy shirt and blue bandanna.
-Next up he's a 70s disco dude with a curly perm, a red disco suit with tiger stripes, black satin plunging V lapels, a silver medallion on his chest, and gold chunky round-toed platforms on his feet decorated with little circle patterns.
-Finally he's sporting late 90s goth club wear with leather trousers and a bare torso all finished off with an extravagant deep indigo coat with a mandarin collar, tightly fitted torso and arms, flared skirt, accented with violet ruffles at the cuffs and chest.
He looks set to tackle any situation looking stylish and confident!

I hope you like this DD fashion spotlight!!! Who should we do next?

Check out these guys and more in Amelius's Charby The Vampirate - https://www.theduckwebcomics.com/Charby_the_Vampirate/




——————————–

Emma Clare isn't doing the Friday newsposts but she's still doing the Quackchat at 5:30PM(EST) every Sunday on Twitter!

Don't forget you can now advertise on DrunkDuck for just $2 in whichever ad spot you like! The money goes straight into running the site. Want to know more? Click this link here! Or, if you want to help us keep the lights on you can sponsor us on Patreon. Every bit helps us!

Special thanks to our patrons!!









Justnopoint - Banes - RMccool - Abt_Nihil - PhoenixIgnis - Gunwallace - Cdmalcolm1 - PaulEberhardt - dragonaur - Emma_Clare - FunctionCreep - Eustacheus - SinJinsoku - Smkinoshita - jerrie - Chickfighter - Andreas_Helixfinger - Tantz_Aerine - Epic Saveroom - Genejoke - Davey Do - Spark of Interest - Gullas - Damehelsing - Roma - NanoCritters - Scott D - Bluecuts34 - j1ceasar - Tinchel - PhillipDP - Teh Andeh - Peipei - Digital_Genesis - Hushicho - Sad Demon Comics - JediAnn Solo - Kiddermat - BitterBadger - Palouka - cheeko - Paneltastic - L.C.Stein - Zombienomicon - dpat57 - Bravo1102 - The Jagged - LoliGen