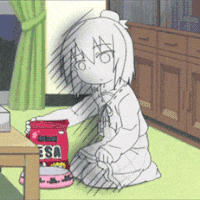 So you've just written a kick-ass, exciting sequence, and you are already looking forward to the next awesome, kick-ass exciting sequence that is coming right up…

…after the dreaded lull: the scenes in a story that have to take place between the exciting sequences. The scenes where technically plot-wise, nothing much happens.

The scenes where people might glance at their watches or wish there was a fast forward button (if you're updating a webcomic weekly, there is no FF button like in something complete).

But is it really a deadzone between exciting stuff? Is it really a pause in the plot progression where nothing of consequence happens?

It can be, if you let it.

But these lulls in the plot progression, the transitional scenes of getting from Exciting Stuff A to Exciting Stuff B can be vital to making the plot matter.

When characters are busy doing things they don't have time for character development. They don't have time to make you, the audience, care about them, their strife, and the stakes they need to face. They simply have to hustle and do the thing, be exciting, be active.

Only they won't come across as exciting and engaging to the audience if time hasn't been invested in getting to know them. And the lull is where you get to know the characters of a story:

A campfire where they just rest and talk, or take stock of what happened, or simply process things together or on their own will yield some of the most engaging, powerful dialogues for getting to feel that the characters are real people, people you care for.

Not just a campfire of course- a beach scene, a fight, a convalescence sequence, a 'feedback scene' (where one character assesses the actions of another, whether they have the right or not), and more are scenes from the lull that make the characters who they are.

Growth, maturing, realignments happen during downtime, where the lull is. And if paced right, the interaction between the characters (even if it's an interaction between a character and their own self) can be just as fascinating as their cool action sequences.

The lull is also where important background can be given. Woven in the interactions, you can give the audience information on the worldbuilding, the stakes, how things work in the situation the characters are, history, and more.

When the characters have to pick up and fight again, you are more invested in that fight, you need them to win, so they can keep being them, you can explore more of the world through their eyes, and you can rejoice in their triumph. In the next lull.

Don't forget you can now advertise on DrunkDuck for just $2 in whichever ad spot you like! The money goes straight into running the site. Want to know more? Click this link here! Or, if you want to help us keep the lights on you can sponsor us on Patreon. Every bit helps us!

Special thanks to our patrons!!










Justnopoint - Banes - RMccool - Abt_Nihil - PhoenixIgnis - Gunwallace - Cdmalcolm1 - PaulEberhardt - dragonaur - Emma_Clare - FunctionCreep - Eustacheus - SinJinsoku - Smkinoshita - jerrie - Chickfighter - Andreas_Helixfinger - Tantz_Aerine - Epic Saveroom - Genejoke - Davey Do - Spark of Interest - Gullas - Damehelsing - Roma - NanoCritters - Scott D - Bluecuts34 - j1ceasar - Tinchel - PhillipDP - Teh Andeh - Peipei - Digital_Genesis - Hushicho - Sad Demon Comics - JediAnn Solo - Kiddermat - BitterBadger - Palouka - cheeko - Paneltastic - L.C.Stein - Zombienomicon - dpat57 - Bravo1102 - The Jagged - LoliGen