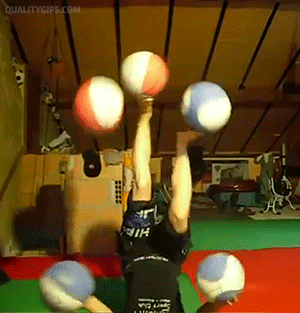 So often, the story doesn't simply have one plot, but many.

There's the A plot, the one that's the main conflict or problem that needs solving. Then there's the B plot, where secondary but still-important issues and problems are being addressed. And often there can even be a C and D plot, depending on how large the cast is and how much circumstances force them to be separated and fan out in the story's world.

The thing is, there's only one 'camera': the audience's attention can only be on one plot at a time. So how does one juggle all the plots without missing important points, without messing up the timeline, and without boring the audience on one and make them just want to switch to the other one?

There's no single answer to this, I think. Juggling the plots is an art in itself and every creator may have different ways of doing it. I can only share mine:

I make sure that when one plot ebbs, the other flows.

What I mean by this is that I do my best to design the plots in such a way that when things are at a general low in terms of suspense or stakes, I can switch to the other plot where things are at a general high and the stakes go up.

Are my characters in the A plot walking from one place to another, and it'll take some time? Time to switch to the B plot where someone might suddenly die. Is that death/handling of death done, and the characters there going about relatively mundane things? Time to snap back to the A plot, where my characters have arrived. That sort of thing.

I also keep them all advancing at relatively the same pace and rhythm. If the A plot is developing over a few days, the B plot will to (rather than, say, have it develop over months).

What (I hope) I am achieving with this is to keep interest and investment in all my plots without making the audience groan that I'm tearing them from one interesting plot to force them to watch something boring.

The general goal in juggling plots successfully is to keep audiences invested in all of them. And in the bottom line, I think that happens when all the plots push forward toward the 'grand resolution': they must both serve the same overarching story which needs to have all its ends tied, and give the audience the sense that things are advancing towards that overarching resolution. Each plot must feel important to the story, to the point that if it were omitted, the story would suffer.

How do you handle juggling many plots?

Don't forget you can now advertise on DrunkDuck for just $2 in whichever ad spot you like! The money goes straight into running the site. Want to know more? Click this link here! Or, if you want to help us keep the lights on you can sponsor us on Patreon. Every bit helps us!

Special thanks to our patrons!!






Justnopoint - Banes - RMccool - Abt_Nihil - PhoenixIgnis - Gunwallace - Cdmalcolm1 - PaulEberhardt - dragonaur - Emma_Clare - FunctionCreep - Eustacheus - SinJinsoku - Smkinoshita - jerrie - Chickfighter - Andreas_Helixfinger - Tantz_Aerine - Epic Saveroom - Genejoke - Davey Do - Spark of Interest - Gullas - Damehelsing - Roma - NanoCritters - Scott D - Bluecuts34 - j1ceasar - Tinchel - PhillipDP - Teh Andeh - Peipei - Digital_Genesis - Hushicho - Sad Demon Comics - JediAnn Solo - Kiddermat - BitterBadger - Palouka - cheeko - Paneltastic - L.C.Stein - Zombienomicon - dpat57 - Bravo1102 - The Jagged - LoliGen