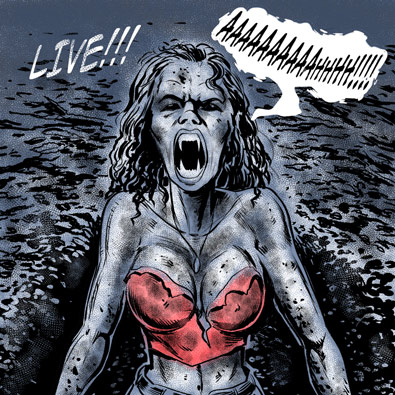 A succubus is a very particular kind of demon, sexy and extremely dangerous… And Mary is an exceptionally dangerous demon. Mary wasn't always a succubus, she had a very traumatic transition into becoming one. She was human and alive once, a horrible event changed all that. Now she's out for revenge. She's back in town to settle some heavy scores and take her pound of flesh, literally. Succubus is a true horror comic, so reader BEWARE. There are various strong themes that might by triggers- sexual violence is referenced.
Succubus is the joint project of the long time collaborative team Monique MacNaughton and Darryl Hughes, the art and writing talents respectively. The art is in Monique's signature retro style, quite textual, lots of heavy blacks with thick outlines and deep shading, with some accents of colour. The story is a horror revenge mystery thriller told from the point of view of the "monster".

Read - Succubus, by Coydog and TheDeeMan, rated M.