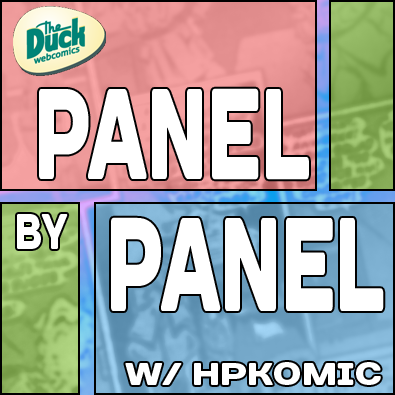 Hello and welcome to Panel by Panel, an analysis of panels from comics right here on The Duck and exploring what they do, how they work, and what we can learn from them.

This week we will check out a panel from the webcomic Redneck by user Metsuke. This is the chapter four, page five in the comic.





This week I wanted to look at a panel that plays well with vertical orientation. It's not too shocking when you read most comics that most panels bear shapes and proportions similar to those of screens. When it comes to how many comics are drawn, in the US, we tend to move in a pattern that is essentially left to right, then down, and again to the left and right. It's just a quirk of how comics language has played out for about a century, and it is familiar. Usually, if someone doesn't follow this form as we might expect, it may throw things off and confuse us, such as having critical dialogue in places that violate that eye movement we are used to.

However, using a vertical panel can be pretty impactful and does a lot of exciting work in several ways. I've only posted a single panel of the larger page, so I suggest that you take in the whole page (and leave a nice comment, too) to see what I mean. This panel, in particular, disrupts the expected flow of the page by leading our eye downward without making it to the opposite corner of the page. Still, even then, the logic within the panel is sound: dialogue from left to right, and the page can be scanned from left to right, top to bottom.

Metsuke also does a great job building visual interest by giving us three focal points in our vision. There is, of course, a far distance, but in mid-field, we have the talking character, and in the foreground, we have another character. We're put into the scene in an interesting way here. You get a good sense of depth, and the whole panel uses figures quite efficiently. We get to see the entirety of the speaker and the focus of the panel, but we also get a sense of the other character, and their scale is also appropriate and communicates depth.

All in all, great usage of a vertical panel. What about you, though? Do you have any examples from a comic you've done? For example, I can present a panel from my comic, Cosmic Dash. Please share what vertical panels you've done!
____________

Don't forget you can now advertise on DrunkDuck for just $2 in whichever ad spot you like! The money goes straight into running the site. Want to know more? Click this link here! Or, if you want to help us keep the lights on you can sponsor us on Patreon. Every bit helps us!

Special thanks to our patrons!!









Justnopoint - Banes - RMccool - Abt_Nihil - PhoenixIgnis - Gunwallace - Cdmalcolm1 - PaulEberhardt - dragonaur - Emma_Clare - FunctionCreep - Eustacheus - SinJinsoku - Smkinoshita - jerrie - Chickfighter - Andreas_Helixfinger - Tantz_Aerine - Epic Saveroom - Genejoke - Davey Do - Spark of Interest - Gullas - Damehelsing - Roma - NanoCritters - Scott D - Bluecuts34 - j1ceasar - Tinchel - PhillipDP - Teh Andeh - Peipei - Digital_Genesis - Hushicho - Sad Demon Comics - JediAnn Solo - Kiddermat - BitterBadger - Palouka - cheeko - Paneltastic - L.C.Stein - Zombienomicon - dpat57 - Bravo1102 - The Jagged - LoliGen - OrcGirl - Miss Judged - Fallopiancrusader - arborcides - ChipperChartreuse - Jaybiejay - Chris_tar