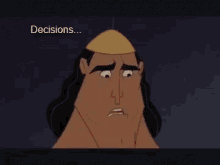 Unless you're winging it 100%, chances are that you have an ending in mind for your story. Perhaps you even have the entire ending scene plotted out in your mind, the layouts ready, even some of the lines or expressions your characters will say and have.

You might have that in mind as early as thumbnailing page 1. But if you are in for the long haul, creating a webcomic that takes several years to make, you might find that your views shift, your characters develop, and different outcomes and possibilities arise.

What do you do then?

We are not the people we were ten years ago- or even one year ago. Experiences, insights, realizations, and new ideas and stimuli forge us into an evolved version of who we are. With that comes a shift in opinions or even interests- what we want to explore in our own story.

That might lead down a path where you find yourself with more than one perfectly possible, viable endings that serve the story (i.e. they aren't structurally unsound or create plot holes). Your initial ending, the one you planned out so thoroughly, may not feel as fulfilling anymore. And I'm using that word because in this situation, the ending originally planned isn't narratively bad. It's just not what feels right anymore. Or at least not completely right.

On the other hand, the alternate endings you may have may be arbitrary for various reasons: the audience may not like it or is rooting for a specific ending; the alternate ending doesn't feel fulfilling either; you may not feel like you're able to carry it through well enough.

How, then, do you solve the conundrum?

I'm sure that there are several ways to do it (again, it depends on your approach), but what I found works for me is to ask the characters themselves. And that is done simply by letting the characters organically act and react as they would within the framework of their personality/ various parameters/ hero's journey/ etc. Whatever outcome they lead to, is going to be the right one, even if I don't feel fully satisfied with it.

After all, not everything can be wrapped up in a pretty bow- but it has to be wrapped up as faithfully to the story and the theme as possible. And who better to be faithful to a story (and world) than those who live in it?

Have you had dilemmas such as these, and if yes how did you go about making a choice?

Don't forget you can now advertise on DrunkDuck for just $2 in whichever ad spot you like! The money goes straight into running the site. Want to know more? Click this link here! Or, if you want to help us keep the lights on you can sponsor us on Patreon. Every bit helps us!

Special thanks to our patrons!!






Justnopoint - Banes - RMccool - Abt_Nihil - PhoenixIgnis - Gunwallace - Cdmalcolm1 - PaulEberhardt - dragonaur - Emma_Clare - FunctionCreep - Eustacheus - SinJinsoku - Smkinoshita - jerrie - Chickfighter - Andreas_Helixfinger - Tantz_Aerine - Epic Saveroom - Genejoke - Davey Do - Spark of Interest - Gullas - Damehelsing - Roma - NanoCritters - Scott D - Bluecuts34 - j1ceasar - Tinchel - PhillipDP - Teh Andeh - Peipei - Digital_Genesis - Hushicho - Sad Demon Comics - JediAnn Solo - Kiddermat - BitterBadger - Palouka - cheeko - Paneltastic - L.C.Stein - Zombienomicon - dpat57 - Bravo1102 - The Jagged - LoliGen - OrcGirl - Miss Judged - Fallopiancrusader - arborcides