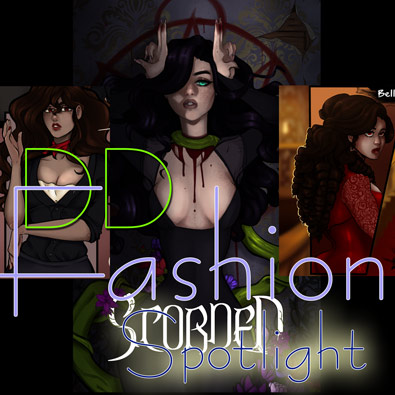 Welcome to…
The DD Fashion Spotlight!
Number 15.


Hel and Belladonna are our two webcomic fashionistas this week! Two gorgeous supernatural ladies with excellent taste in clothes, drawn with inestimable skill by our very own Damehelsing. I really don't know why these two haven't shown up in the Friday Fashion Spotlight sooner, they both have an armoury of exciting and gorgeous outfits that they wear with style and sex-appeal

On the cover you see Hel flanked by Belladonna in two different outfits, wearing her hair in two different styles.




Hel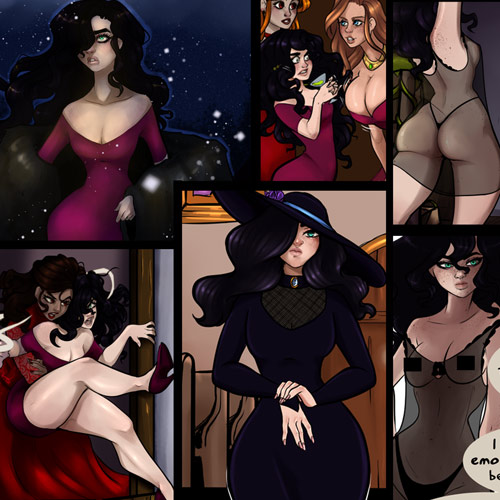 Hel sports 3 different looks here: a very tight and short rose madder dress with a deeply scooped neck and three quarter sleeves; A long Goth, floor length black dress with long sleeves, a slit up one side, scooped neck cleavage hidden by a mesh window and secured with a black jeweled choker, and accessorised with a broad brimmed hat; And finally a gauzy negligee over a g-string, once again it features a deeply scooped neckline despite the fact that her breasts are visible.
Hel loves to empasise her hourglass curves and she's quite keen to show her bust. She is a very "womanly" woman with a mane of liquid black wavy hair.


Belladonna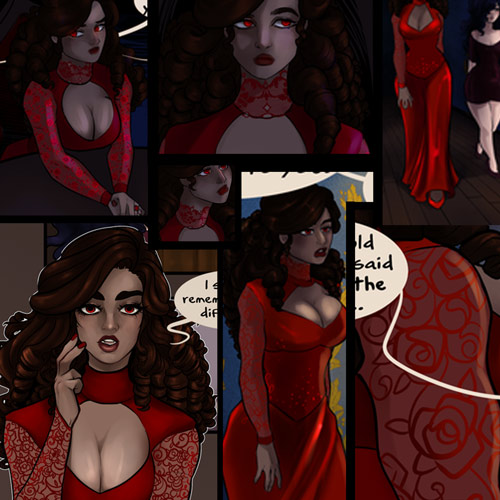 Belladonna wears a scarlet dress to complement her red eyes and chestnut hair. Her outfit is more complex than any worn by Hel and her bust, while also on display, is considerably larger. The neckline of her dress is not only scooped but is also cinched tight under her bust, in fact it's a separate piece to the bodice. It's held at the neck by a beautiful lace collar which mimics the lace of her tight sleeves. The bodice and bust are decorated by subtle patterns in the fabric. Beautiful red satin makes up her skirts. Her hair is styled so that it falls in a multitude of loose ringlets.

Both women seem keen on cleavage. Their styles though are quite individual and highly flattering.

Check out more of Damehelsing's work in - https://www.theduckwebcomics.com/Scorned/.

——————————–

Emma Clare isn't doing the Friday newsposts but she's still doing the Quackchat at 5:30PM(EST) every Sunday on Twitter!

Don't forget you can now advertise on DrunkDuck for just $2 in whichever ad spot you like! The money goes straight into running the site. Want to know more? Click this link here! Or, if you want to help us keep the lights on you can sponsor us on Patreon. Every bit helps us!

Special thanks to our patrons!!









Justnopoint - Banes - RMccool - Abt_Nihil - PhoenixIgnis - Gunwallace - Cdmalcolm1 - PaulEberhardt - dragonaur - Emma_Clare - FunctionCreep - Eustacheus - SinJinsoku - Smkinoshita - jerrie - Chickfighter - Andreas_Helixfinger - Tantz_Aerine - Epic Saveroom - Genejoke - Davey Do - Spark of Interest - Gullas - Damehelsing - Roma - NanoCritters - Scott D - Bluecuts34 - j1ceasar - Tinchel - PhillipDP - Teh Andeh - Peipei - Digital_Genesis - Hushicho - Sad Demon Comics - JediAnn Solo - Kiddermat - BitterBadger - Palouka - cheeko - Paneltastic - L.C.Stein - Zombienomicon - dpat57 - Bravo1102 - The Jagged - LoliGen - OrcGirl - Miss Judged - fallopiancrusader - arborcides