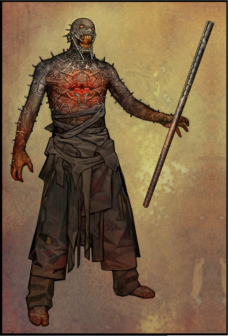 I've said this before. I LOVE the video game Condemned. I also love its sequel Condemned 2. Also known over at the states as Condemned: Criminal Origins and Condemned: Bloodshot respectively.

I'm not gonna talk so much about the games themselves in this article, but I warn you, SPOILERS AHOY. Seriously speaking, this is the one horror video game series I absolutely adore, and I don't even like horror games much. Why? Well, a big part of that is because it features, in my opinion, the best, most horrific evil cult ever seen in any stroke of fiction period.

Now let's be frank here for a moment. When you have a horror story involving an infernal cult, which are usually occultist in nature, they're usually the least horrific thing in that story. The horror rests almost entirely in the power they worship and/or the big, evil thing that they're trying to summon into our world.

The cultists themselves, seperate from Cthulu or the Anti-Christ or any of their otherworldly minions, usually amount to no more then a bunch of creepy dorks who enjoy things such as:

Drawing pentagrams…
Building creepy-looking temples, shrines and/or altars…
Standing around, or possibly dance, in circles…
wearing outdated robes…
chanting a bunch of archaic gibberish…
Throw in a blood sacrifice or spooky transformation now and then just to spice things up a bit…
… and overall acting like creepy dorks to anyone they encounter outside their spooky little club

That's all good and servicable of course, but it's also kind of vanilla these days, isn't it? The evil cultists in both resident evil 4 and Silent hill 1 & 3 (All of which I've played through) I count to this category. Yes, some of them transform into monsters and all that. But again, that's not them doing that really, that's the mutating parasites injected into their bodies, or the summoned power of the nightmare dimension, doing that for them.

But then there is Condemned, and the Oro, my favourite evil cult of all time. Men who've modified themselves with weird, self-brutalizing technology to amplify this ability they naturally have, which is emitting a sound that turns anyone with aggressive instabilities within into raging, murderous berserkers.

This gives them sonic powers that serves both as a weapon and as an instrument for this evil, supernatural element lurking within the collective human sub-consciousness, since the dawn of mankind, for which the Oro has made themselves twisted representations of. And for which influence and madness the Oro are unleashing onto the world with the aid of their psychotic, sonic tech.

The Oros have always been there in the shadows, controlling all of civilization behind the scenes with this power, and are theorized to have been responsible for all of mankind's violence, cruelty and uncontrolled hatred throughout history

The picture you see here is a piece of concept art of the Oro Dark Primary encountered in the first Condemned game. He's one of their elite members reffered to in the game as The Hate. I absolutely love the aesthetics of these guys. There's something otherwordly about their looks, having these metal pieces pierced through their bodies and these metal jaw things that makes them look absolutely monstrous and inhuman up-close.

They are something unique, infernal and truly horrifying in of themselves. They make me think of those freaky test subjects in the Russian Sleep Experiment, for those of you familiar with that creepypasta. They ARE the madness that lurks within us all, begging to be free in our deepest animal minds. What we hide from in our beds every night. What we sedate into silence and paralysis when we go into the nocturnal haven for which they cannot thread.

Granted they're not as horrific in the second game, but I still love them there too. I think they as cultist horror villains, and the unique, supernatural element they bring with them, is just awesome overall.

So what's your favourite horrific, evil cult? Do you agree with me that most evil cults in fiction aren't that horrific in of themselves or do you object? What do you think does or can make an evil cult truly horrifying?

Let me know in the comments below. And if you are a horror gamer with an XBOX 360 and you haven't tried out Condemned/Condemned: Criminal Origins yet. Do track down a physical copy if you can and play it. It's an awesome horror game I whole-heartadly recommend.

Helixfinger out!