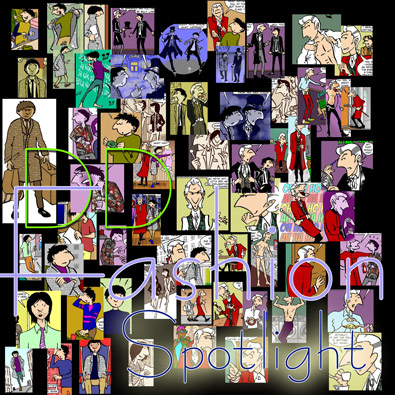 Welcome to…
The DD Fashion Spotlight!
Number 20.



Adam and Byron are two stylish young men living in 1980s London. They're making their way in the world, trying to look cool and succeeding mightily! Both have their typical looks that properly characterises them but they both also like to experiment and mix and match too. Adam is a writer and doesn't like to be seen to try too hard, but he really does like to look good. His trademark is his long grey overcoat, it goes with everything. Byron does a bit of this and a bit of that, even dabbling in porn, he DOES try really hard with his appearance. His trademark is his New Romantic Teddy-boy look.


Adam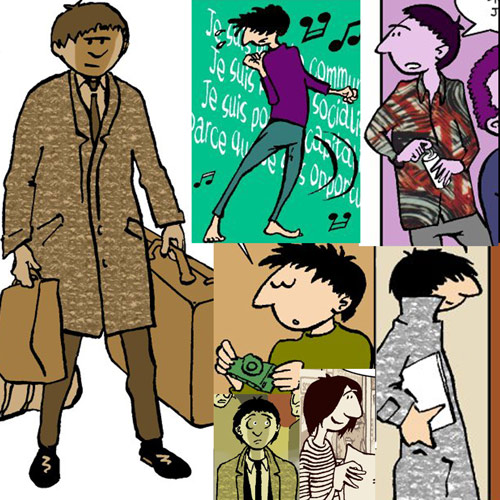 Adam's typical look is his heavy tweed woolen overcoat. It keeps him warm in the chilly London winter, and it unifies every outfit. But he's not above trying new things, experimenting with patterned shirts and jumpers. Typically he likes to wear a single coloured jumper or T-shirt and tapered trousers with simple shoes.

Byron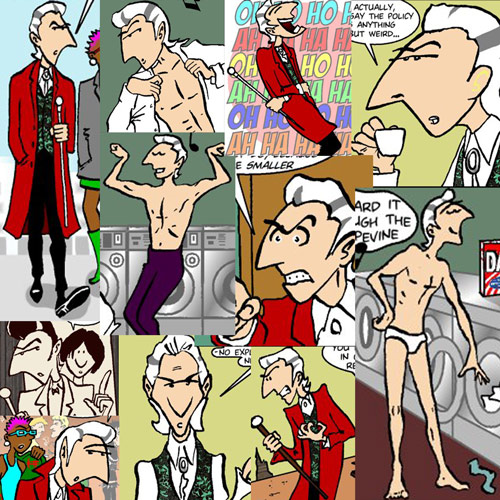 Byron is a very stylish guy. In the 80s he would have been seen as a New Romantic, but the outfit also has tinges of the 1950s Teddy-boy about it; with his styled pompadour hair, the knee-length coat, cane and dressy look. Now we'd think of him as a Gothic vampire! He's gorgeous and he knows it. A style icon for any era.

Both men represent different 80s fashion archetypes in a more realistic and natural way than a lot of our spotlighted features. Adam and Byron are both comic characters but their clothing is fully realistic for the time they're from.

Check out more of Simonmackie's work in - [https://www.theduckwebcomics.com/Monkey_Nukes/.

——————————–

Emma Clare isn't doing the Friday newsposts but she's still doing the Quackchat at 5:30PM(EST) every Sunday on Twitter!

Don't forget you can now advertise on DrunkDuck for just $2 in whichever ad spot you like! The money goes straight into running the site. Want to know more? Click this link here! Or, if you want to help us keep the lights on you can sponsor us on Patreon. Every bit helps us!

Special thanks to our patrons!!









Justnopoint - Banes - RMccool - Abt_Nihil - PhoenixIgnis - Gunwallace - Cdmalcolm1 - PaulEberhardt - dragonaur - Emma_Clare - FunctionCreep - Eustacheus - SinJinsoku - Smkinoshita - jerrie - Chickfighter - Andreas_Helixfinger - Tantz_Aerine - Epic Saveroom - Genejoke - Davey Do - Spark of Interest - Gullas - Damehelsing - Roma - NanoCritters - Scott D - Bluecuts34 - j1ceasar - Tinchel - PhillipDP - Teh Andeh - Peipei - Digital_Genesis - Hushicho - Sad Demon Comics - JediAnn Solo - Kiddermat - BitterBadger - Palouka - cheeko - Paneltastic - L.C.Stein - Zombienomicon - dpat57 - Bravo1102 - The Jagged - LoliGen - OrcGirl - Miss Judged - fallopiancrusader - arborcides - ChipperChartreuse