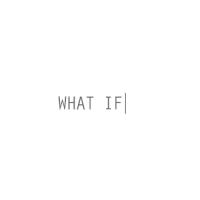 Anyone that has written or read fanfiction knows that the AU is the Alternate Universe: the placement of a given set of characters that come from a specific IP or franchise or book or movie into a completely different setting, timeline, or even genre.

The LOTR cast might be thrown into a slice of life high school setting. Harry Potter may suddenly be in medieval or Arthurian England rather than modern UK. Characters that are adult may now be children or teenagers (usually teenagers, per the self-insert needs). And so on.

Usually, fanfiction is looked down upon. AU even more. And I can't totally blame people for the bad reputation AU can have on occasion, since it has yielded some terrible gems. On the other hand, I find it unfair because the AU presents a wonderful exercise in character building and character mechanics.

For the AU to work, its creator has to consider two things:

1. The new setting's parameters

2. What background that fits these new parameters will yield the personality and behavioral patterns that hold for each character in the original work.

If, therefore, one would set out to create a Rurouni Kenshin AU set in the present day, they'd need to consider what kind of background in a modern society would justify Kenshin:
a. Wielding a sword to expert status
b. Having a bloody past to atone for
c. Being a wanderer
d. Having connections to the police, the government, and the underworld
e. The monstrous adversaries he fights will need to be monstrous within the framework of the modern world (unless the modern world is also 'warped' which presents a bigger challenge).

The list goes on.

How does this help get a deeper, better grasp in character building and nuance?

Because the creator is challenged to get the same result with different (or somewhat different) variables that are dictated by the rules of the Alternate Universe these characters will now be interacting in. And by doing that, the creator basically studies how characters and personalities work. The whole cause-effect interrelations, the self vs. the environment, and the organic existence of any character in a setting so that they can feel like they are a product of this alternate setting, is exactly the practice that makes perfect when it comes to characterization.

That's why AUs and fanfiction are such perfect sandboxes to develop writing and story building skills in. So, if you wanna make an AU, DO IT.

Don't forget you can now advertise on DrunkDuck for just $2 in whichever ad spot you like! The money goes straight into running the site. Want to know more? Click this link here! Or, if you want to help us keep the lights on you can sponsor us on Patreon. Every bit helps us!

Special thanks to our patrons!!










Justnopoint - Banes - RMccool - Abt_Nihil - PhoenixIgnis - Gunwallace - Cdmalcolm1 - PaulEberhardt - dragonaur - Emma_Clare - FunctionCreep - Eustacheus - SinJinsoku - Smkinoshita - jerrie - Chickfighter - Andreas_Helixfinger - Tantz_Aerine - Epic Saveroom - Genejoke - Davey Do - Spark of Interest - Gullas - Damehelsing - Roma - NanoCritters - Scott D - Bluecuts34 - j1ceasar - Tinchel - PhillipDP - Teh Andeh - Peipei - Digital_Genesis - Hushicho - Sad Demon Comics - JediAnn Solo - Kiddermat - BitterBadger - Palouka - cheeko - Paneltastic - L.C.Stein - Zombienomicon - dpat57 - Bravo1102 - The Jagged - LoliGen - OrcGirl - Miss Judged - Fallopiancrusader - arborcides - ChipperChartreuse - Jaybiejay