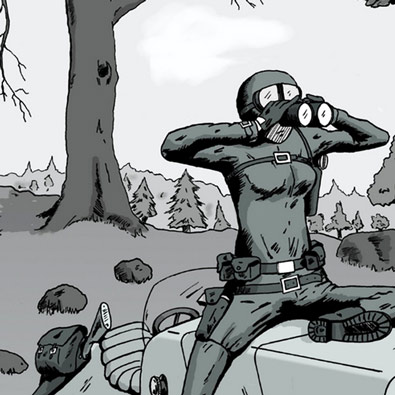 Wild, rough talkin', hard-ass Amie Geddon works as a bounty-hunter in a frontier town. she takes crap from no one and it's almost impossible to get the drop on her. Many have tried, few have succeeded… Till now. Her blabbermouth friend Gertie Brown leads her into a bit of trouble, starting a whole cascade of problems, gun fights, quick humour, and triple crossing in this action packed story! Amie Armageddon is a dieselpunk* scifi action Western comic. The writing is full of action, gun-slinging, humour, and insults. The art is drawn with pencil and ink and edited digitally in tones of grey, that gives it an old-timey photograph feel, with a very original art style.
*For those that don't know, the dieselpunk genre are scifi stories where the main technology centers around the internal combustion engine (so roughly limited to 1910s-1940s technology).

Read - Amie Armageddon, by Machineheadstudio, rated T.