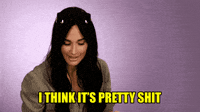 Hah. Easier said than done, right?

Ask any artist about how much they like the stuff they make, and chances are you'll get a mixed bag of answers where most will be saying how they wish they'd done the stuff better. The anatomy isn't quite right, the colors don't quite pop, the composition doesn't help the flow, the lettering covers all the art, the story is clunky, the characters are a little meh or too extra.

There's always something that could be done better- and they're right!

There's always room for improvement. Just by the sheer fact that practice makes perfect, it means that the more you create, the better the creations will be- and that means that if you make something again, it'll have a good chance of coming out better than it did the first time.

But that's beyond the point. Or at least, it should be beyond the point when it comes to loving the stuff you make, and being confident in the work you produce.

Loving your work doesn't mean putting it on a pedestal or call it the equivalent of the Sistine Chapel (especially when it isn't). Loving your work means taking pride and joy in the fact that you created something. Even if it's not exactly as it was in your mind or even if it's considerably worse than what you pictured in your mind, it's a start. A baseline. Somewhere to begin improving, or to get closer to what you want to achieve.

So the anatomy is wonky. It is great that you can see that the anatomy is wonky because by seeing it, you can get to correcting it. If you don't love your anatomically wonky work, then you won't find it easy to invest time in it to make the anatomy better.

When I was taking my first steps in creative stories, I wrote a bunch of them like the world was ending. They were all BAD. Like, real bad. From the plot construction to the characters to the writing and the dialogue, those stories were literally bottom. Because I couldn't fail harder. When I realized it, all my love for them turned into rage and I tossed them all in the fireplace, and watched them burn. I didn't touch a pen for a couple of years afterwards.

Now, I regret it. I really wish I had those stories stored somewhere, just like I have my first drawings. I'd probably find them worse now than I did back then, but I'm proud of them because they represent my starting point. And if I had the capacity to be in that headspace then, and kept working on them instead of burning them, I probably would have made faster progress in my writing overall.

So, what should we be confident about when it comes to our work?

I'd say that there's one thing for sure about it: that we can make it better when we don't quite like it, and we should be about to enjoy it when we do.

But that- enjoying our work- is a post for another day.

Don't forget you can now advertise on DrunkDuck for just $2 in whichever ad spot you like! The money goes straight into running the site. Want to know more? Click this link here! Or, if you want to help us keep the lights on you can sponsor us on Patreon. Every bit helps us!

Special thanks to our patrons!!






Justnopoint - Banes - RMccool - Abt_Nihil - PhoenixIgnis - Gunwallace - Cdmalcolm1 - PaulEberhardt - dragonaur - Emma_Clare - FunctionCreep - Eustacheus - SinJinsoku - Smkinoshita - jerrie - Chickfighter - Andreas_Helixfinger - Tantz_Aerine - Epic Saveroom - Genejoke - Davey Do - Spark of Interest - Gullas - Damehelsing - Roma - NanoCritters - Scott D - Bluecuts34 - j1ceasar - Tinchel - PhillipDP - Teh Andeh - Peipei - Digital_Genesis - Hushicho - Sad Demon Comics - JediAnn Solo - Kiddermat - BitterBadger - Palouka - cheeko - Paneltastic - L.C.Stein - Zombienomicon - dpat57 - Bravo1102 - The Jagged - LoliGen - OrcGirl - Miss Judged - Fallopiancrusader - arborcides - ChipperChartreuse - Mogtrost