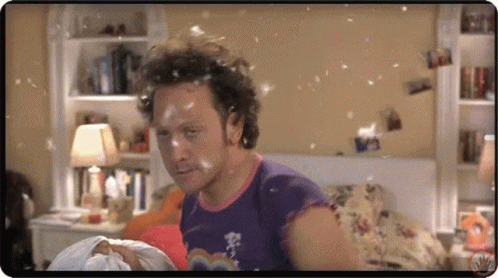 So hitting a girl (or a woman) is extremely tropey. Regardless of how progressive your story is, a man hitting a woman runs a high risk of being considered lowly or less than heroic. That's because generally, women are considered weaker than men, thus an easy target. A woman hitting a woman runs a high risk of being considered sexy (mud may be involved?), catty but not very serious, or something to be amused over. That's because women are considered generally equal in strength between them (but still weak) so a fight can be taken as 'harmless' and thus amusing, which of course couldn't be further from the truth, but that's for a different article.

These tendencies become even stronger if instead of a woman there's a girl.

When does a male character get a pass for hitting a woman?

In my experience, if the situation or context falls within these lines:
a. the woman is quite overpowered, so the man is at a disadvantage in a physical fight
b. the woman "deserves it", in that she's been very obnoxious and abusive for a very long time
c. the woman poses as a man and the male character isn't aware of it yet
d. the woman is a danger that trumps her gender, making it necessary to use violence (e.g. she's shrieking or panicking and will give away a position, causing death, or she's about to hit a nuke button, etc)

It is never okay for a man to hit a girl, because it's nearly impossible to convince an audience a girl can be sufficiently threatening to a man or can't be dealt with without violence. The same goes for hitting a boy (falls under 'who would harm a child', with the exception of stories where the kid is the antichrist or something… eventually).

Sometimes, a male character hitting a woman will get a pass because not excusing her from it implies respect for her abilities, genuine, true equal treatment, or a rite of passage, one way or the other.



The whole context of it all, of course, hinges on whether the audience believes the woman is weaker than the man, so the man is quite literally punching down, and nobody likes a character that stoops to that. A female character that punches a woman that is clearly unable to fight back for whatever reason will also get a negative tint in the eyes of the audience, even though she has the same gender as her target, for the same reason.



This is why this scene is so impactful and the stepsisters look so evil.

The same goes, in essence, for if a woman hits a man, in a context where the man is unable to fight back and therefore is vulnerable.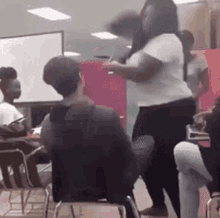 It looks terrible and the aggressor looks like a butthole.

In the end, it's not the gender that makes it okay or not okay, but the context and how 'even' the field is between the one who attacks and the one who is attacked. The audience will give a pass to hitting a girl if the context is right, and refuse to do so if the context is wrong. Like in so many things, context is king.

That said, don't hit girls. Or boys. In fact, don't hit anyone if you can help it.

Don't forget you can now advertise on DrunkDuck for just $2 in whichever ad spot you like! The money goes straight into running the site. Want to know more? Click this link here! Or, if you want to help us keep the lights on you can sponsor us on Patreon. Every bit helps us!

Special thanks to our patrons!!






Justnopoint - Banes - RMccool - Abt_Nihil - PhoenixIgnis - Gunwallace - Cdmalcolm1 - PaulEberhardt - dragonaur - Emma_Clare - FunctionCreep - Eustacheus - SinJinsoku - Smkinoshita - jerrie - Chickfighter - Andreas_Helixfinger - Tantz_Aerine - Epic Saveroom - Genejoke - Davey Do - Spark of Interest - Gullas - Damehelsing - Roma - NanoCritters - Scott D - Bluecuts34 - j1ceasar - Tinchel - PhillipDP - Teh Andeh - Peipei - Digital_Genesis - Hushicho - Sad Demon Comics - JediAnn Solo - Kiddermat - BitterBadger - Palouka - cheeko - Paneltastic - L.C.Stein - Zombienomicon - dpat57 - Bravo1102 - The Jagged - LoliGen - OrcGirl - Miss Judged - Fallopiancrusader - arborcides - ChipperChartreuse - Mogtrost