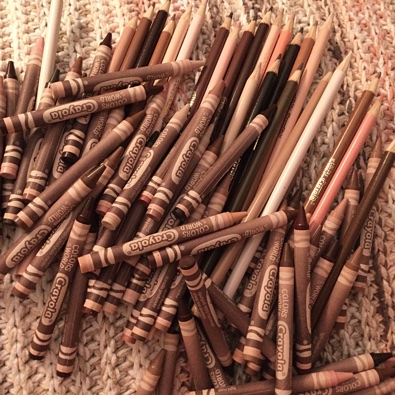 Photo: "Pile of Crayola Colors of the World Crayons and Coloured Pencils." (April 2023)

An unplanned visit to the grocery store led me down the food-less office supply aisle where clearance stickers covered half the supplies hung on wired metal racks. A thought ran through my head to justify the cost, "It figures. Spring Break is next week and it does not make sense to carry so many supplies with less than two months to round out the academic year."

I grabbed the last two pointed scissors off the rack priced at forty-nine cents—perfect for cutting yarn and those annoying shipping labels off mailer envelopes. Then I saw the most impressive deal a few columns over: the entire line of Colors of the World (CotW) by Crayola was reduced for clearance (at about one hundred seven cents for one box of crayons). The Colors of the World color box has been one of the most sought after color palette collections that I have been actively searching for since I learned of their existence.

See, here is the crayon breakdown: I grew up in a world where skin tones were achieved using the peach, apricot, goldenrod, dandelion, and orange for shading. Basic packs of eight crayons never included a skin-tone shade, twenty four pack only included one apricot, and the mega-sized boxes of thirty-two/sixty-four/ ninety-six crayons only included one peach in each. Sadly the peach and apricot crayons were most popular and would get worn, broken, "lost", or stolen faster than other crayons in the set.

The most lovable detail of the Colors of the World palette is that the colors are based on varying hues and shades of: Almond, Rose, and Golden. It covers a gradient spectrum of twenty four colors using those three warm bases.

Beyond using these art supplies for its original intended purpose, I plan to use them for more abstract drawings in a warm neutral color scheme. I will always have a love for graphite, charcoal, and ink wash (traditional "cool grays" as Copic Markers label them). On the flip side, the warm neutral palette of dusty pinks, taupe, and creamy beige is an arrangement of colors I am continuously drawn toward when selecting eyeshadows, outfits, and yarn skeins.

Were you the type to wear down your crayons?


.::.
What's Quacking?
Do you have any original art to contribute to our stock image database, announcements, community projects, ideas, news, or milestones to report? Please leave general comments below or send a PQ to kawaiidaigakusei.