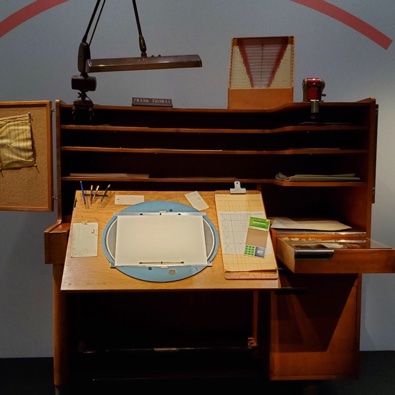 Photo: "Animator Desk Belonging to Frank Thomas". Taken at the Academy Museum of Motion Pictures (by me). Los Angeles, California. (October 2021).

The mid-twentieth century animator studio has always held an aura of mystery to any mind that has ever wondered how hand-illustrated animation is created. Anyone who has drawn comics on the Duck, has probably seen the short films that play before a feature-length animated film; the ones that would show animators flipping stacks of white paper on a desk like a flip-book, showing a moving drawing in the process.

Former animators who were once part of the nineties hand-animation industry, and left, can have very strong opinions about the experience (and some, unfortunately, remember more thorns than roses).

Today, the vintage animator's desk still holds a special fascination for the budding illustrator that they are the put on display in museums. During a visit to the Academy Museum of Motion Pictures in Los Angeles, California, a desk belonging to Frank Thomas (Sleeping Beauty, Peter Pan, Snow White, Bambi) was the exhibit. The hand-cranked, manual pencil sharpener; the mechanical pencil holder on the upper left hand corner of the table; the retractable bending lamp hovering above the desk were all part of the details that proved a human being who shared the relatable love of drawing sat at this desk to create incredible works of art.

Imagine the day when all of the current technology used to create webcomics—tablets, stylus, phones, desktop computers, flat-screen curved monitors—are displayed in a museum next to a tiny plaque describing twenty-first century technology in a few lines.

One can only dream.


.::.
What's Quacking?
Do you have any original art to contribute to our stock image database, announcements, community projects, ideas, news, or milestones to report? Please leave general comments below or send a PQ to kawaiidaigakusei.