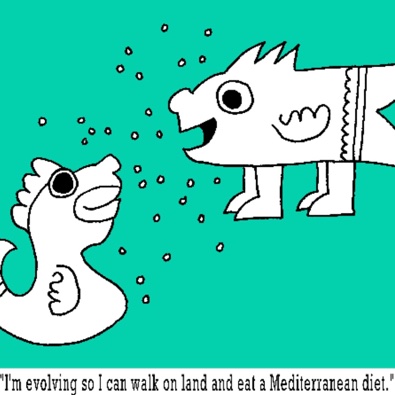 Photo: "MEDV" or "I'm Evolving So I Can Walk on Land and Eat a Mediterranean Diet". TWO PENNY VAUDVILLE. Drawn by CRYSTALPEN. (February 2023)

CRYSTALPEN, of Two Penny Vaudville—a comic described as, "GAG CARTOONS: MY LITTLE THEATER OF LAUGHS," by its creator—wrote on the "Meet, Greet, Show and Sell" forums this great announcement that must be shared with a wider audience:

Crystal Pen writes:

"Two Penny Vaudville has just achieved it's 200th posting. The talented cast and crew of our little theater of laughs is going to celebrate at a local digital restaurant."

Read TWO PENNY VAUDVILLE by CRYSTALPEN, rated E!

Congratulations on making two hundred pages, Crystal Pen! Now everyone should make their way to Two Penny Vaudeville to enjoy some fresh jokes.


A Shoutout to Lothar: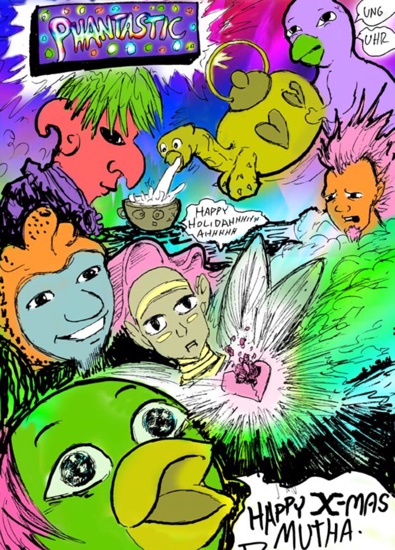 Photo: "Drunk Duck Secret Santa 2022 Gift Art Exchange". Drawn by Lothar for Hushicho. (December 2022)

Lothar has been a long-time contributor on Drunk Duck, this year being the seventeenth documented year on the site. Lothar has stepped up to the plate to create art many times over the years that I have overseen the Secret Santa Art Exchange. Last year's gift exchange was no different and this remarkable creation was spawned out of it. Wow—those bright neons, this must be shared with a larger audience.

Check out Lothar's work, all the comics, and appreciate the last seventeen years of Lothar's artistic endeavors.

Link to Lothar's Profile: https://www.theduckwebcomics.com/user/lothar/


(Happy President's Day in the United States)

.::.
What's Quacking?
Do you have any original art to contribute to our stock image database, announcements, community projects, ideas, news, or milestones to report? Please leave general comments below or send a PQ to kawaiidaigakusei.