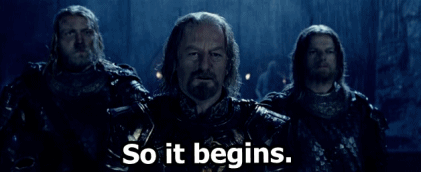 I was supposed to write the last post on my 'toxic' character design series, but I've been deep cleaning the house all day and I'm exhausted. My brain refuses to think so that post will need to wait till next time. Instead, I'd like to talk about how I got into art at all! How it all began.

I always find that how people get into things is fascinating, because often it's just a little thing or many little things that gently push us in a certain direction. So much so that sometimes it's hard to even remember what got us into something.

My weapon of choice when it comes to art is the pen, rather than the brush: I've been a storyteller well before I ever tried my hand at visual storytelling or drawing at all. Not a good storyteller, mind you, at around 8 or 9 years old when I remember my first efforts to write some Enyd Blighton fanfiction. But an aspiring one.

I remember how I first decided to write surprisingly vividly- it was at school and I was enthralled during literature class, which was one of my favorites thanks to all the short stories. We were reading a short story that honestly I think wasn't for elementary school kids, even though it had kids as the main characters, because it was about the Nazi Occupation (sound familiar yet?). And it had a bitter ending that I just couldn't accept. I liked these characters, and I didn't want them to be helpless, dead, out in the streets like they end up in the story. So what I did was furiously write an alternate ending to the story during the school break.

And that was it. Anything I didn't like, anything I wanted to see and didn't, I took to my notebook and my pencils and I wrote that sucker down so I could read it whenever I wanted to!

The concept that writing had skills to be learned and that there was good writing and bad writing, and rules to be followed before they could be bent slapped me in the face a couple of years later when I dared show my notebook to someone else, and they tore my beloved stories to shreds with their criticism. It was valid criticism, but so nastily delivered to an 11-12 year old that I burnt all those stories and swore I would never write again.

But not writing began being painful about six months in my pledge. So I knew I'd want to write but I was terrified of writing something bad. That's when I started reading books on writing and it took me another six months or so to dare start writing again, this time in a far more aware, disciplined way. The stories were still crap, don't get me wrong, but they were at least trying to adhere to some basic elements like character design, plot development, and consistent settings.

The rest is history, I guess! I've never stopped writing since, never stopped trying to find ways to get better.

With sketching, I had a similar route, but really, I got into comics basically because the only way to entice my class of English language learners to learn irregular verbs was to cartoonishly draw them in a "magic school" comic I would continue only if they scored top marks and did their homework. After I didn't need to do that anymore because the kids liked performing in class for the sake of the class and not the comic, I kept doing it because I liked it, but created my characters instead, and made Wolf, which is still here on DD if you want to see how bad I was starting out.

So what about you? How did you get into writing, comics, or any other art form?

Don't forget you can now advertise on DrunkDuck for just $2 in whichever ad spot you like! The money goes straight into running the site. Want to know more? Click this link here! Or, if you want to help us keep the lights on you can sponsor us on Patreon. Every bit helps us!

Special thanks to our patrons!!






Justnopoint - Banes - RMccool - Abt_Nihil - PhoenixIgnis - Gunwallace - Cdmalcolm1 - PaulEberhardt - dragonaur - Emma_Clare - FunctionCreep - Eustacheus - SinJinsoku - Smkinoshita - jerrie - Chickfighter - Andreas_Helixfinger - Tantz_Aerine - Epic Saveroom - Genejoke - Davey Do - Spark of Interest - Gullas - Damehelsing - Roma - NanoCritters - Scott D - Bluecuts34 - j1ceasar - Tinchel - PhillipDP - Teh Andeh - Peipei - Digital_Genesis - Hushicho - Sad Demon Comics - JediAnn Solo - Kiddermat - BitterBadger - Palouka - cheeko - Paneltastic - L.C.Stein - Zombienomicon - dpat57 - Bravo1102 - The Jagged - LoliGen - OrcGirl - Miss Judged - Fallopiancrusader - arborcides - ChipperChartreuse - Jaybiejay - Chris_tar - Mogtrost - InkyMoondrop - Jgib99 - Hirokari - Orgivemedeath Ind - Mks Monsters - GregJ