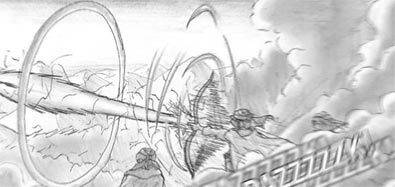 Hi everybody,
Since I can't get anything done until right before the deadline I've decided to just keep hitting refresh on the front page and click on stuff til I find something to comment on. I'll pick 3 comics again.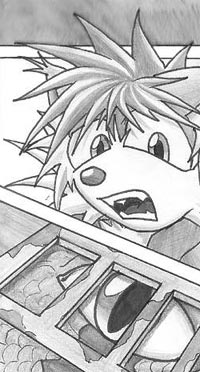 1. Afterworld Part I (2007) by Dan
Comic Book / unfinished
Afterworld Part I

There are some realy detailed backgrounds and it makes it feel more emersive. It has a Dinotopia Magik-Punk vibe going on too. This comic brings me back to where the zeitgeist was back then. You can see some influence from stuff like Final Fantasy, Chronotrigger, and Nausicaa.
The characters look like they came from the Sonic the Hedgehog universe.
The epic space battle on this page here:
EPIC SPACE BATTLE
It is so damned ambitious. It's serously inspiring me to draw something like it.
I also like this page with its 4th wall breaking:
Where Waldo?
Storywise: It doesn't really go anywhare in the few pages there are but for some reason it makes me want to draw.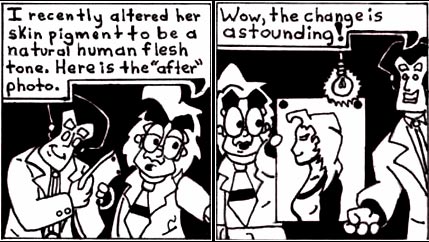 2. Hey Professor (2006) by DetectiveFork
Comic strip / finished

Hey Professor
I remember Detective Fork !
Seems like this comic was pretty popular back in the day. I don't remember it, but there are a lot of things I don't remember.
Some of my favorite pages include:
-Theme Park Hijinks
-Creationism
-Mona Ratza
-Melanie's Cosmetic Surgery
I like the simple black and white style.
I also like the geocities url that is at the bottom of each comic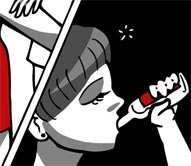 3. Love The Way You Lie (2012) by Kestrel
Comic Book / unfinished

Love The Way You Lie
The author said it was based on a Rihanna song. If I made a comic based on a Rihanna song it would be "shut up and Drive"
I like the colors and the attempt at addressing this dark topic. Spoilers; there is DRUG use and Nudity. Since the final image is of the protagonist shooting up, I'm going to imagine that she died of a heroin overdose - THE END. I guess it is a completed comic after all. Don't do drugs. Drugs are bad, kids.


Well there they are. Now I have to go to the bathroom, if you'll excuse me. see you next time, maybe .





Don't forget you can now advertise on DrunkDuck for just $2 in whichever ad spot you like! The money goes straight into running the site. Want to know more? Click this link here! Or, if you want to help us keep the lights on you can sponsor us on Patreon. Every bit helps us!

Special thanks to our patrons!!












Justnopoint - Banes - RMccool - Abt_Nihil - Gunwallace - PaulEberhardt - Emma_Clare - FunctionCreep - SinJinsoku - Smkinoshita - jerrie - Chickfighter - Andreas_Helixfinger - Tantz_Aerine - Genejoke - Davey Do - Gullas - Roma - NanoCritters - Teh Andeh - Peipei - Digital_Genesis - Hushicho - Palouka - cheeko - Paneltastic - L.C.Stein - dpat57 - Bravo1102 - The Jagged - LoliGen - OrcGirl - Miss Judged - Fallopiancrusader - arborcides - ChipperChartreuse - Mogtrost - InkyMoondrop - Jgib99 - Hirokari - Orgivemedeath Ind - Mks Monsters - GregJ - HawkandFloAdventures