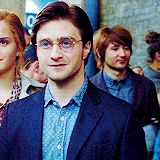 So as some might know, my 12+ year-old webcomic Without Moonlight is about to end!

Ok well its first volume is about to end. I have probably something like 3 more volumes to go.



If I live long enough

Still though, it is basically one book done, and it does need a wrap-up. An epilogue. Yes, that's what I'm making this weekend (yes I know I should've made it last weekend, but real life happened) and that's all I have in my mind, so that's what I'm talking about.

Now, I don't think there's a right or wrong way to make an epilogue. Like rings on fingers and shoes on feet, the epilogue just needs to comfortably fit where the story has ended. There may be a variety of ways to make an epilogue that fits, and I think that hinges a lot on what the creator wants the story to say and what the creator's plans moving forward are.

A "where are they now?" epilogue usually sees characters in the distant future from the now where their story has ended. In Harry Potter we saw all the Hogwarts graduates grown up and about to send off their own children to Hogwarts for their first year.

A "happily ever after" epilogue leaves the characters in a happy place, with clear prospects for the future. In Avatar The Last Airbender we saw the main chacters paired off with their romantic interests as they have a nice, calm evening with tea and a lot of hope and determination for the future. (And a dangling cliffhanger, but we'll get to that in a bit)

A "it all went to shit but it was worth it" epilogue, the characters may be doomed by they are happy as the world perishes around them, or the world is better for their sacrifice, or they go to a happy place beyond the world as a reward for their struggles. In Gladiator Maximus dies, but that is his happy ending because he has accomplished his revenge arc and is finally reunited with his family in the elysian fields (presumably).

A "it was all a dream" epilogue leaves the characters who had the 'dream' (i.e. experienced the story) vividly changed in some way in their waking, real life. In A Christmas Carol Scrooge changes from a misanthropic miser to a kind philanthropist thanks to his visions/dreams (that are the entire book).

And then there's the "it's all good for now" epilogue, where the characters are in a happy place which is clearly temporary, with threat and the overall struggle not yet resolved. This is usually the case for modular stories that have big chapters that are supposed to be stand-alone, but also sequential in that they keep up with the same characters as the plot continues where it left off in the previous chapter's epilogue. I'll round back to Harry Potter since it's convenient, and the epilogues in the first few books where the characters are glad the current threat is gone, but know the big bad threat is still looming as they promise to meet again for next year.

I'm certain I've forgotten a couple of epilogues, so list them in the comments. What epilogues have you gone for, or are planning to go for in your webcomic?

Don't forget you can now advertise on DrunkDuck for just $2 in whichever ad spot you like! The money goes straight into running the site. Want to know more? Click this link here! Or, if you want to help us keep the lights on you can sponsor us on Patreon. Every bit helps us!

Special thanks to our patrons!!









Justnopoint - Banes - RMccool - Abt_Nihil - Gunwallace - PaulEberhardt - Emma_Clare - FunctionCreep - SinJinsoku - Smkinoshita - jerrie - Chickfighter - Andreas_Helixfinger - Tantz_Aerine - Genejoke - Davey Do - Gullas - Roma - NanoCritters - Teh Andeh - Peipei - Digital_Genesis - Hushicho - Palouka - cheeko - Paneltastic - L.C.Stein - dpat57 - Bravo1102 - The Jagged - LoliGen - OrcGirl - Miss Judged - Fallopiancrusader - arborcides - ChipperChartreuse - Mogtrost - InkyMoondrop - Jgib99 - Hirokari - Orgivemedeath Ind - Mks Monsters - GregJ