Public Profile
Kaizu
member since July 07, 2008
About
Name: (CLASSIFIED)
Alias: Kaizu
Occupation: Sprite Author, Mangaka
Location: Highpoint, North Carolina
Interest: My hobbies involve scripting and creating sprite comics. Likewise with manga. I adore chinese food, and most things connected to Japanese cultre, including anime. I'm an overall naive and gullibe person, who will do just about anything for a friend, and stick up for those without any assistance, and I'm quite mature for my age, but I have my moments. My own personality is my inspiration for my comic character, Kaizu, and many of the bases of other characters are built around those of my friends and other peers.
Contact:
AIM: N/A
Yahoo: N/A
MSN: Youngbloodtyler@hotmail.com
Email: Youngbloodtyler@hotmail.com
Youtube: Shoneguy
Website: www.mysprite.synthasite.com
Current Comic(s)
Kaizu TH
Genre: Adventure, Sprite, Scifi
Rating: PG
My favorite comic made thus far, this is about a rackshack team of jr. heroes trying to save Mobius from the terrony of Eggman, 3 years after the seperation of Sonic Team. This comic is open to new members, good or bad, so feel free to send in sprites, please.
The World's Best Sonic Comic:
http://www.mgcomics.com/AkumaTh/ATH/
The World's Best Video Game (Misc.) Comic:
http://www.kidradd.com/
M'Sprites:
Sprite Database:
http://sdb.drshnaps.com/SpritesDS.htm
The Spriter's Resource:
http://www.spriters-resource.com/
Mystical Forest Zone Act 4:
http://www.themysticalforestzone.com/
M'Backgrounds:
Background HQ:
http://www.bghq.com/index.php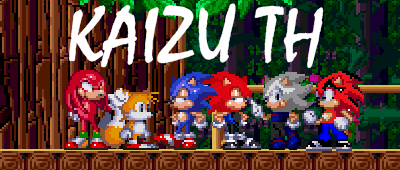 Comics By Kaizu
Fantasy |
8 pages |
last: July 6 2011 |
0 likes
All your favorite Jump heroes and villians going at it for the world title, but is their an evil conspiracy under it all? Click and find out! And post while you're their.
Fantasy |
12 pages |
last: July 6 2011 |
0 likes
The next big "the hedgehog" series is here! In a world under sieged by Robotnik, a new team of heroes stand to face the tyranical dictator. They're known as the Revolters, and led by Kaizu they plan on aiding Sonic & friends to defeat Robotnik!
Fantasy |
1 page |
last: July 6 2011 |
0 likes
Kaizu and friends are new to the area, and immediately begin knocking heads with the Sonic team. It's a comedy about two gangs from different lands, looking to prove dominance using idiotic cartoon antics. You can't pass this up!
Comics Assisted By Kaizu
No comics.
Comics Recomended By Kaizu
The daily lives of an asshole and his best friends. Done in the Code Monkey style, it's not the prettiest comic in the world, not the most well written, but it is entertaining.
An online game appears out of the blue known as The Game. Using 3D virtual reality software, the players gain a new kind of control to the video game. Millions of players begin to join from all over the world. And with this many players comes problems.
An echidna from a different land comes looking for our blue hero. Does he pose a threat to Sonic? Or will he get a girl pregnant first?!
Kaizu's friends
forum topics started
Videos Shared By Kaizu
No videos.
©2011 WOWIO, Inc. All Rights Reserved Mastodon