Well folks -
I thought it would be interesting to start sharing with you all our art production. What I am going to do is post the whole process, from script to final art so you can see a little of how we work.
If we get a solid response to this, I might even be tempted to post the art production on new pages before they go live on the site.
So, we begin with the script from Alana, obviously -
Alana
Page 6
Three panels, evenly spread.

Panel 1: Similar to page 5.5 panel 2, except Daiyu is looking back out the window, and Arthur is moving to sit down.
DAIYU: They could be fireworks.
ARTHUR: Do they look like fireworks to you?
DAIYU: My people could make such fireworks.

Panel 2: Arthur sits down on the seat next to her, sliding his glasses onto the bridge of his nose, and he looks at her skeptically. She has turned back to look at him.
ARTHUR: You know they aren't fireworks.

Panel 3: Daiyu abruptly gets up and starts past Arthur.
ARTHUR: Where are you going?
DAIYU: To get some air.

Page 6.5
Three panels, one tall, two stacked atop each other.

Panel 1: Daiyu makes her way down the train aisle, passed all manner of fancy dressed folk. Arthur stands as if to follow her. A conductor is somewhere in the panel.
CONDUCTOR: Last stop, Washington, DC.

Panel 2:
The train is passing the half-built Washington Monument, complete with space ships. Daiyu is standing at the end of the train, the open spot with the rail that you see in Western movies. She is leaning on the rail. Arthur comes through the door. The train is slowing down, if there's a way to show that. (Gene, you can divide her long speech into a couple of bubbles if you want.)
ARTHUR: What is it, pet?
DAIYU: I have never fought anyone from the celestial realms. Never gave them much thought, in fact. They are things of legend, and now they are here. Will you carry my things to the hotel?
ARTHUR: Wha…

Panel 3:
Daiyu launches herself over the rail, ready to make her way toward the ships. Arthur holds his hand in the air, as though to stop her, though he realizes he is too late.
ARTHUR: Couldn't you have at least waited until the train stopped?
Once the script is turned in, we give it to Anthony to work up a page layout -
Generally, once the sketch is turned in, I'll take a look at it and make sure all the storytelling flows smoothly and that we're getting the most dynamic shot possible.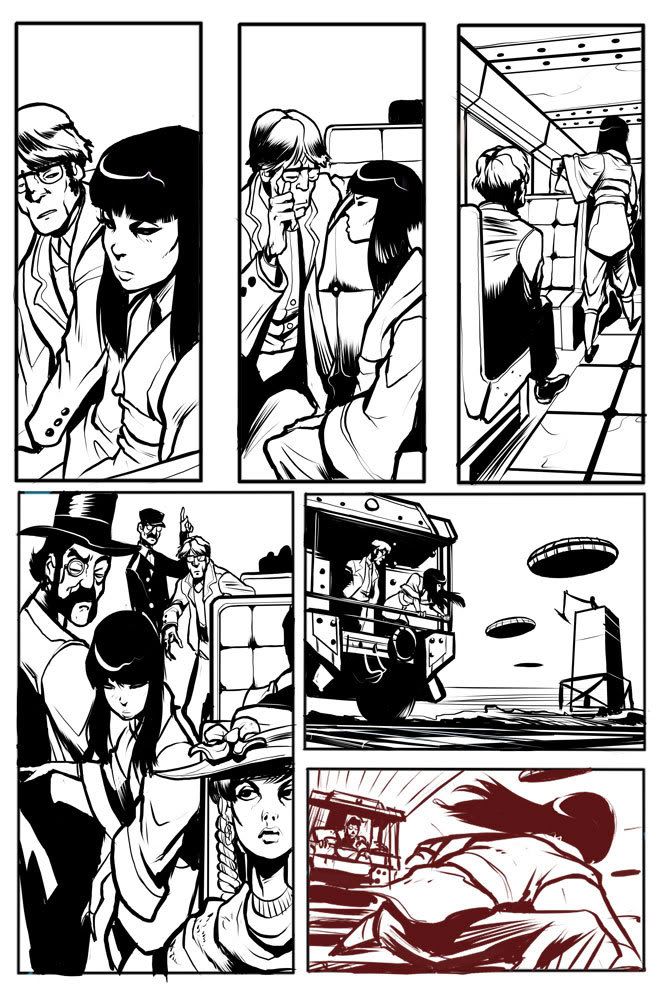 As you can see, Anthony is pretty spot on with his storytelling, though I did ask him to rethink the very last panel. The first one was just not very dynamic and the panel seemed too similar to the one before it. I think he resolved the issue very well!
The next part is to add the color.
When Anthony originally colored this, he didn't notice that in the previous pages, it was night out. So, we had to adjust the colors a bit to reflect a night scene. He also added in a bit of background info.
And, for the last half of the page, Anthony nailed it on the first shot!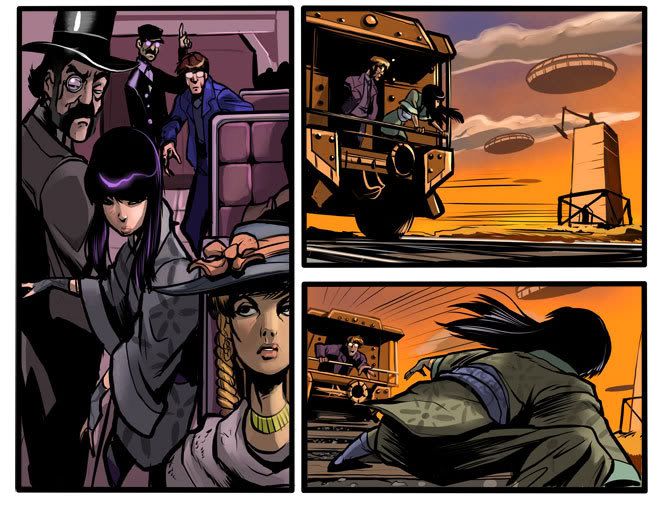 Once all the art is completed, we turn it over to Gene to work his lettering magic -
So, there you have it. That is basically the process it takes to bring you the comic you read weekly. And please, if you have any questions, let us know! If you all liked this, I really will consider putting up new pages as we complete them here on the forum before the final lettered versions go live on the site.
Thanks!