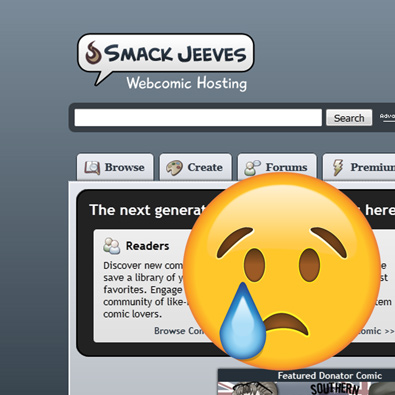 It's a sad day for Smack Jeeves and independent webcomics comics in general.
In case you haven't heard Smack Jeeves was acquired by a Korean mobile content company NHN. They've proceeded to minimise the community there and hijack the platform to promote a selection of sleek, generic, comics that all look the same.

The owner basically sold the site out from underneath the community and walked away. Whatever his reasons this isn't a good thing: webcomics hosting sites are nothing more than a gallery for the community members to display their work on. Sure we work extremely hard to set and maintain these sites but the reality is that it's the members who make them what they are. The community of people that put in millions of hours of work to create stories and art, work hard to keep tight schedules and build good relationships with their audiences, networking across social media to build recognition and even paying for advertising! It's THESE people that truly make a site and that is what was sold out.

Not only that, but it's THAT which NHN truly wanted access too. They couldn't give a crap about the coding on Smack Jeeves, the brand or anything else. What they wanted was that tailored internet traffic so they could hijack it for their own needs.



We at The Duck Webcomics understand that more than anyone
We were approached by the SAME company last year, before Smack Jeeves rolled over and handed the keys to the castle. We worked for months on the deal, providing all sorts of details they asked of us and writing reports and things. What we refused to provide them with was access to any of our user information or the artwork. We also made it very clear that the site would not be sold without retaining the current management, protecting the community, and giving us autonomy to manage the site and do what was in the best interests of the community at all times! It seemed at the time that they were amenable to this, but then the deal fell through. Now we know why ;)

It turns about what they really wanted was to strip the site and use it as they saw fit.



Drunk Duck has been through this exact process
15 years ago with Platinum Studios and again a few years later with Woiow publishing. Except both times we managed it far better: The first time our creator Dylan Squires (Aka Volte6) joined the company when he sold the site so that he was able to watch over the community and be an advocate for it, which he did extremely well. When Wowio took over Skoolmunlee and myself (Ozoneocean), were retained as admins of the site and we made sure we could speak up for the interests of he community. That was firmly in our minds during the acquisition talks with NHN last year!

There are precious few non-corporate, independent webcomic hosts out there that support diversity of style, talent and creativity. In the early 2000s there was just Drunk Duck and Keen Space (later Comic Genesis). Much later on Smack Jeeves and Comic Fury came on board. Tapas and Webtoons are just corporate sites that restrict content and promote comics of a certain type. You can host there but you'll always be second class citizens (the same way Keen Spot considered Keen Space/Comic genesis). At the moment the only real webcomic community sites left are The Duck Webcomics and Comic Fury.


I'd advise account deletion
Creators and readers with accounts and comics on Smack Jeeves should delete your accounts and move to The Duck Webcomics and Comic Fury.
NHN wants to steal the hard work you put in to build your readership so they can transfer your readers to their own corporate comics instead and leverage your data for marketing purposes. They don't care about you and will make changes to the platform without consultation or proper communication. Believe me, we KNOW what we're talking about here, we know from the inside.

We'll be talking more about this on the Quackcast, out on Tuesday.