What are YOU full of?



You know the drill by now guys- MAFIA SIGNUPS HAVE COME AGAIN! The Flying Green Monkey is your GM and the theme of this game is: "The Spanish Mongoose Venom has struck again. This game is basically continuing crazy games based on the said Venom."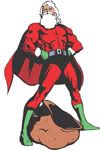 It is too late for you to sign up to participate in the Drunk Duck Secret Santa, but it's not to late to check out all the cool giftarts people are giving/receiving! This project is organized by Niccea and it looks like people are having fun- there are a lot of great pictures so far!





On Dec 18th, Sameth's Dragon city has its 700th comic! Amazing! He's doing a special for it, which will probably be a Christmas special too! AND AND AND Sameth is graduating from the University of Texas Arlington TODAY, so congratulations for that too!



Un Re Stop Comics by lagoticspy reached 75 pages yesterday! Ho ho ho!



At 150 pages is Zeph's Plastic Bullets! Be merry!



Doctor Shadow and revaflynn's Chronicles of Wyrden has reached 325 pages! It is like a gift but a webcomic! Doctor Shadow adds, "More to come, so much more!"



Character Development, a comic by Gunwallace, has reached 125 pages! IT IS MADE WITH PLAYMOBILES!



DrLuck


Crossbones

has been done for like, about a month now (I was waiting on the print version) and I just went through and edited all the old pages to look a bit cleaner. So I guess now Crossbones is COMPLETELY done!
And something to keep in the back of your mind, every year (apparently on January 1st, and that day ONLY)
Comicraft
has a font sale based on the new year- so they sell all their lovely expensive fonts for about $20! If I were you I might be looking around at the fonts on their website and making a wishlist.