Why do we call Drunk Duck members "DDers" or "Drunk Duckers"? I mean, wouldn't "Ducks" (or Drunk Ducks) be simpler? I dunno. :shrug:

The Drunk Duck newsposts now have an RSS feed! Never miss a newspost with this fancy newfangled technology (okay it's been around a long time), just paste that URL into your rss reader or whatever it wants you to do. AMAZING COMIC NEWS AT YOUR DOORSTEP! If you lose that URL, check the footer of the main page or the top of the news page!



Quackcast Episode 8 is out!

Episode 8 - The Bonus-Length Holiday QuackCast
Dec 21, 2010

Actually, it was just an accident that this turned out to be the longest QuackCast yet. Skoolmunkee starts the show off right and it takes them a few minutes to recover. This cheery episode features such fantastical creatures as nymphs, pirates, and nice people on the internet.

Topics and Show Notes
* Feeling the holiday spirit?
* Featured Comic: A Wood Nymph's Tale
* Featured Comic: The Pirate Balthasar
* A bit of chat about fantasy and adventure features
* Community shout-outs, Part 1: All the mods, Niccea and DD Secret Santa, Product Placement and DD 24 Hours, the Mafia group, JustNoPoint and the DD Awards bunch, ayesinback and the recent Voices contest, and Kinh (srhdt) at Wowio

A little mention for
Christopher
, which just a little while ago ousted
Charby
from the number 1 spot on the front page! When was the last time THAT happened? Congrats man!
Congrats also to Asbin for hitting
300 pages
of
Project GTH
on Monday! Feels good man!
Hey I know you are still recovering from the awesomeness that was the previous two interviews, but I got more greatness headed your way! RIGHT NOW!
Evil_Jake interviews Genejoke of Malefic and other comics
!
9. Malefic looks like it has a good deal of spinoff potential. Are there any plans to derive future series from the main storyline?
Well there is malefic tales which serves to expand the story and gives me a good platform for experimentation and collaboration. One of which is a poem written by Mehighlow who is behind Weave, I have the poem it is just a matter of putting the visuals to it. I have done a number of roughs for it but so far I'm not happy with the results. They look nice enough but don't quite hit the mark just yet. Further to that is Underbelly, which was going to be part of Malefic tales but the idea spiralled, it also acted as a practice run for the 3D art. Will there be others? maybe. The aim with underbelly (once it spiralled) is to have a story centred on a single character rather than a rotating ensemble cast. That and a chance for me to do some more writing as I have largely handed the writing duties on Malefic to Jabberwockyjones. The plotting aspect is very much a joint effort but the scripting is mostly his work now.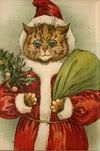 Have you been checking out the gift-arts showing up in the
Drunk Duck Secret Santa Gifts Thread
? Well you should! Some great stuff in there from our creative, generous Duckers!