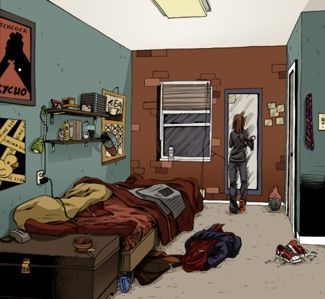 Lydia Mason lives with her older sister in an old, dilapidated apartment building in the inner city. Their skewed relationship could stem from Lydia's constant rebellion and her sister's role as the sole caregiver in her life. Her bedroom–consisting of clothes strewn across the floor, used chopsticks in a bowl of leftovers, newspapers thrown on an unmade twin sized bed pushed up against the wall, and a calendar with each day crossed off–are reminders of the routine nature of the daily grind.

Lydia's world is about to turn upside down when she discovers a mask that turns her into a hero— or at least that's what she thinks.

Masked is set in a world much like our own, with the exception of superhumans and mutant creatures with hyper powers. It is a unique superhero comic because it spends a lot of time on character development with a main female protagonist.

The art in this comic delivers. It looks digitally colored, but the lineart has a traditional hand drawn quaility. There is a fantastic understanding of perspective in interior and landscape shots. The fine attention to detail in the backgrounds draws the eye to each panel of the page. Many of the scenes take place at night, which is a testament to the lighting and shading ability.

Read Masked, by booger, rated T!