MEGA MILESTONE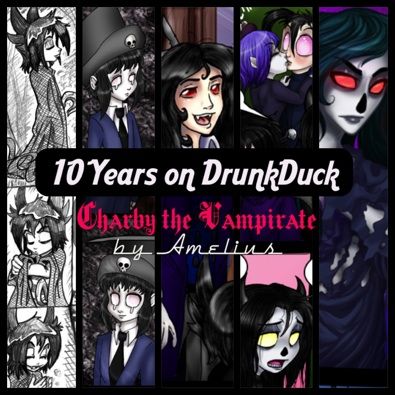 Charby the Vampirate by Amelius

Longtime DrunkDuck veteran, Amelius, is celebrating the 10th Year Web Anniversary for her outstanding masterpiece, Charby the Vampirate. This comic is the perfect example of how dedication and persistence pays off while drawing a webcomic. The art in Charby the Vampirate has evolved since its first comic because Amelius constantly improves with every update.

Charby turned ten years old on January 6, 2014, on TheDuck. It was one of the early comics on the site in 2004 and managed to climb the top ranks quickly. The entire archive was almost lost forever in 2005, but two devoted readers had saved the comic's archives and allowed it to be fully restored in 2006. Congratulations, Amelius, on your landmark year anniversary!
Link: http://theduckwebcomics.com/Charby_the_Vampirate/

MILESTONES


Culture Shock by Hawk reached its 400th page milestone last Friday! Tune in now to read the adventures of a stoic knight and a Japanese ninja having to share an apartment and fight organized crime.
Link: http://theduckwebcomics.com/Culture_Shock/



The KAMics by KAM reached its 1450th page milestone today! KAM has been a DrunkDuck user for many years, so please go read his comics. The first collection of The KAMics and a book of short stories KAM wrote can be purchased at http://www.lulu.com/spotlight/KAMbooks.
Link: http://theduckwebcomics.com/The_KAMics/

.::.
What's Quacking?
Do you have any announcements, community projects, ideas, news, or milestones to report? Please leave general comments below or send a PQ to kawaiidaigakusei. Email me at kawaiidaigakusei@gmail.com.