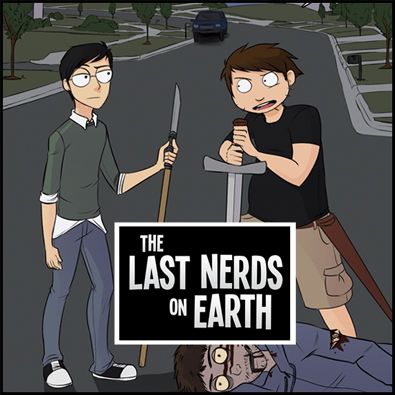 Move over Big Bang Theory, these nerds are the real deal. Oliver and Adam have become expert zombie hunters by default after the latest apocalypse left them as the last nerds on Earth. This comic is not for anyone with a queasy stomach, but beyond the cartoon blood splatter, this is really a story about two geeky best friends. The two are on a quest to survive all while having a debate between whether Superman or Batman is the superior superhero.

This is a collaboration comic between Matt (Co-Creator, Cyanide & Happiness) and Austen. The team has described "The Last Nerds on Earth" as "Superbad meets Scott Pilgrim meets The Walking Dead".

There is even a Patreon page for this comic to support more comic pages.
Link: http://www.patreon.com/MattMelvin

The art looks like it is drawn digitally from start to finish. Each page is in full color and uses a very nice palette that is easy on the eyes.

Top off your Halloween fright fest and read The Last Nerds on Earth by LastNerdsOnEarth, rated T!