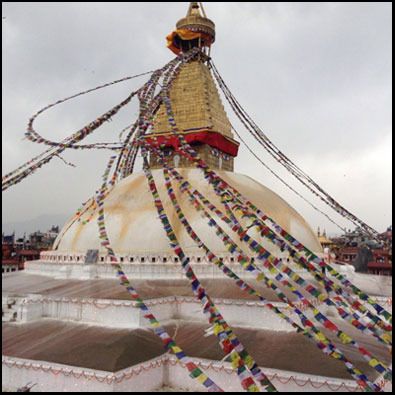 -Kathmandu, Nepal, April 23rd, Thursday Morning

This week's news-post is going to focus on non-comic related current world events.

As a world traveler, I have been to many places and met many other fellow travelers along the way. One of the benefits of keeping in touch with friends abroad is that I get to see some sights I have never experienced in person through photographs that I receive.

Last week, two very close friends of mine were traveling in Kathmandu, Nepal, and my email inbox was getting flooded with photographs of Buddhist temples with painted eyes and several coloured flags. There were pictures of their hotel room, restaurants, and photographs of the local monks wandering around the street. On Saturday morning, news of the 7.8 magnitude earthquake was reflected on every news source. My friends had fortunately traveled out of Nepal to their next destination two days earlier on Thursday evening. I wish I could say the same thing for the 3,200 (as of Sunday evening) reported dead from the initial earthquake and its aftershocks.

Nepal is one of the countries that my friends visit to lend a helping hand in volunteerism while seeking spiritual enlightenment in their temples or by taking on Mt. Everest. I am sure we have a few adventurous webcomic creators here on Drunk Duck that have traveled to Nepal. Good hopes and positive thoughts go out to anyone in our community who has family or friends directly affected by last weekend's Nepal earthquake.

Earthquakes are an all too familiar topic of concern for me after having lived in Los Angeles for eight years. Southern California is no stranger to earthquakes and the largest one I had experienced was a 7.6 magnitude in 2007. New Zealand experienced a major earthquake in Christchurch in 2010 and 2011. Earthquakes can happen with very little advanced warning, so if you live in an earthquake-prone region, maintain an emergency water supply, re-enforce your building's foundation, or consider relocating to a different region.

FORUM DISCUSSION TOPICS

Please Contribute to this Week's Popular Forum Topics:


How do you make a sexy/attractive character? What makes a character sexy and or attractive?
(Still Open!)

The process of creation

No more spammy ads?! Patreon brainstorming thread!



.::.
What's Quacking?
Do you have any original art to contribute to our stock image database, announcements, community projects, ideas, news, or milestones to report? Please leave general comments below or send a PQ to kawaiidaigakusei. Email me at kawaiidaigakusei(at)gmail(dot)com.