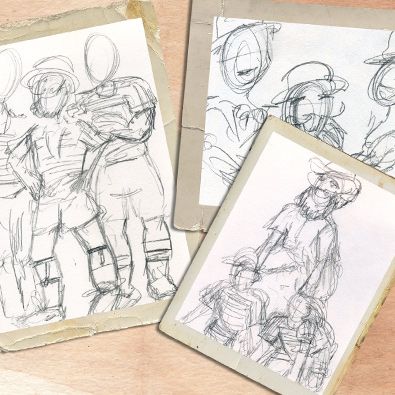 Around Spring of last year, in an attempt to keep my pen moving, I signed up for a life drawing class. It was the first time since high school art class that I was going to draw human models in real life. Over the last decade, most of the human figure references I use for drawing webcomics are still photographs without any time limit, so it was going to be a challenge.

I arrived at the venue super early that the front door to the business was locked. It was freezing, so I was ready to do an about face when I noticed a hipster-looking man with a box car moustache wearing a bowler hat and clothes from the 19th century. I asked if he was there for the life drawing. His eyes involuntarily moved back and forth a bit until he responded with a quiet, "Yes." Then a pause. "Actually…I am one of the models." I stood awkwardly in the cold next to this gentleman that I was about to draw on the third floor walk up of the building next to us. I felt as if I had broken the first rule of a life drawing session, no small talk between the audience and the models. Eventually the awkward moment ended when the other members of the three man Vaudeville Troupe jumped out of their car and lugged enormous trunk cases up the stairs.

The building had a musty smell from what I believe was the prohibition-era 1920s. I found a seat in an uncomfortable plastic fold out chair because I assumed it was the cleanest one available. Before long the lights went out and the next three hours were spent drawing outrageous costumes, bushy beards with handlebar moustaches, and being entertained by the hilarious poses of the performers.

I did come to two realizations that evening. The first was that I am horrible at drawing the male figure. Most of my experience in webcomics use extensive practice drawing female body types because I understand the curves and the waist-to-hip ratio. Heavily costumed male figures proved to be even more difficult, so it was like starting at the beginning of a learning curve. The second lesson I learned is that sitting in a dark room having to draw constantly for three hours is mentally and physically draining, not to mention how quickly art supplies get used up in the process. My drawing hand seriously began to tense up and I had to pace myself for the endurance to make it through to the end of the night.

I walked away with a newfound respect for Art majors and anyone who has taken a life drawing class for an entire semester. Drawing from real life is a helpful discipline to learn and can only enhance the ability to draw.

I give props to anyone who has participated in a life drawing class, whether as a sketcher or as the model!


.::.
What's Quacking?
Do you have any original art to contribute to our stock image database, announcements, community projects, ideas, news, or milestones to report? Please leave general comments below or send a PQ to kawaiidaigakusei. Email me at kawaiidaigakusei(at)gmail(dot)com.